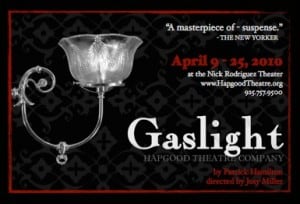 Hapgood Theatre Company will stage its first British import, Patrick Hamilton's thriller Gaslight.
Mrs. Manningham believes that she is slowly going insane, but faced with two different versions of the facts, one from her devoted husband and the other from a police detective she has never met, reality begins to get even less clear. Meanwhile, the secrets of the dimming gaslight and the mystery of the hidden rubies only intensify the conflict. In the midst of this thrilling plot line, the author builds up and sustains some of the most brilliant suspense in the modern theatre.
A hit on stage both in London and New York, as well as in its two film incarnations.
The cast features William Elsman* (Mr. Manningham), Alexandra Matthew* (Mrs. Manningham), Aaron Murphy (Rough), Janice Fuller Leone (Elizabeth), and Maryssa Wanlass (Nancy).
The New York Times said, "Infinite craft and dexterity…. Comes off the top part of the theatre's top shelf."
Gaslight plays at the Hapgood, April 9-25, 2010.