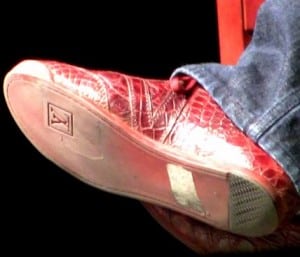 Deepak, you had us at the first layer of consciousness. As he spoke at the Cinequest Film Festival recently, Deepak Chopra may have sent karma-sized shock waves across the theater, "I could talk about consciousness for two years." And while he didn't manage to go that far, he did explain his way through layer, after layer of the metaphysical. While you could question his scientific reasonings (but who would do that!), he does score points for fashion with some of the slickest Red Shoes this side of Neptune.
"Architecture, music, science… these are expressions of consciousness, not of your mind. Your mind is another expression of consciousness," he explains to a packed house at the California Theatre with camera lights flashing and the pro-spiritual crowd soaking in one warm fuzzy after the next.
And if the even more cynical side of you is wondering what Deepak Chopra is doing at a film festival, well, it's because he makes films—and we're not counting CNN appearances.
His new film project "Beyond" is based on the Liquid Comics graphic novel he wrote, as "an adventure into other dimensions."
And the good news continues to roll: earlier this month, Deepak announced on Good Morning America that his yoga routine has been made into an iPhone app, "Yoga When You Want It." True story. Now you can enjoy many, many levels of consciousness in your hand on-the-go. No word yet when the Red Shoes will be made available at Macy's.