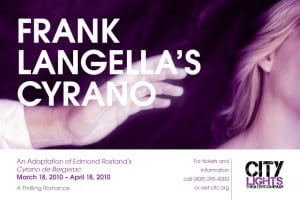 City Lights Theater Company of San Jose announced it will be presenting Frank Langella's Cyrano–an adaptation of Edmond Rostand's Cyrano de Bergerac.
"A thrilling romance, this is the classic tale of a man who longs to feel worthy of love – despite the nose that fate has dealt him."
This story is about poet and swordsman, Cyrano de Bergerac who believes that his enormous nose makes him unworthy of love. To satisfy his own taste for romance, he aids the handsome Christian in wooing the beautiful Roxane, the woman they both love. Christian becomes the vessel for the passionate missives that fly from Cyrano's pen to Roxane's heart. But as Roxane finds herself ever more intoxicated by the heady cocktail of Cyrano's heartfelt words and Christian's dashing good looks, both men are left to wonder to which of them her heart truly belongs – until fate steps in and reveals to her at last the surprising truth that Cyrano has spent a lifetime concealing.
Edmond Rostand's original Cyrano de Bergerac debuted in Paris in 1897, and was performed in rhyming couplets of 12 syllables per line. In 1899 a translated Broadway production opened and later was revived in 1923, 1946, and 1984. The play itself is one of the most popular in the French language, has been filmed numerous times (i.e.: Roxanne with Steve Martin), and was even made into an opera. This universally endearing story of unrequited love makes this play a huge success and an audience favorite.
Actor, director, producer, screenwriter and three time Tony Award winner Frank Langella (who had played Cyrano twice in his life before) adapted Edmond Rostand's classic love story Cyrano de Bergerac and pared it down to bare bones. The things that Frank Langella recognized were that this play could be performed by a much smaller cast/ensemble, performed at small theaters or anywhere for that matter, and could be stripped of some of its more archaic language to become more accessible to a younger generation. Frank Langella's Cyrano was first produced and performed in the 1997-1998 season by the Roundabout Theater in New York City. Frank not only adapted and directed the play but then also starred as the conflicted Cyrano in his own play.
"A number of years ago, it began to occur to me that this play, so universally loved, might be very effective as a chamber piece. My reasons were two-fold. Most of us have known the pain of unrequited love, and many people ruin their lives holding out for an ideal beyond them, when true happiness is right under their noses, so to speak."
The production previews on Thursday, March 18th and Friday, March 19th, 2010 with the Gala Opening Performance on Saturday, March 20th, 2010. A post-show discussion will be held on March 28th, 2010. The production is scheduled to run through April 18th, 2010.