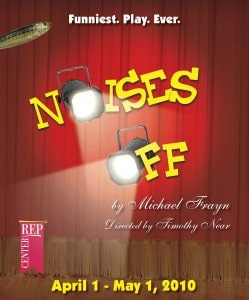 Center REPertory Company's presents Michael Frayn's hilarious comedy Noises Off, from April 1st through May 1st, 2010. Directed by Timothy Near, Noises Off is the seventh production of Center REP's 43rd subscription season. Press night is Tuesday, April 6th at 7:30 pm.
Noises Off follows the on-and off-stage antics of an acting troupe as they stumble from bumbling dress rehearsal to disastrous closing night. Everything that can go wrong does, as actors desperately try to hang on to their lines, their performances and the furniture. Add a slippery plate of sardines and many slamming doors, and you have the most hilarious backstage farce ever written.
Timothy Near returns to Center REP after having directed The Mousetrap in 2007 and Doubt in 2008. Near recently concluded 21 years of service as Artistic Director of San Jose Repertory Theatre during which time she directed over 30 plays and led the company to be among the most respected and artistically adventurous resident theatres in the country. In the spring of 2008, she left her Artistic Director position to resume her career as a freelance director. Over the past summer Near opened her productions of Uncle Vanya at California Shakespeare Theatre and Enchanted April at Arizona Theatre Company. Near has directed at numerous theatres throughout the U.S., including The Guthrie, Berkeley Rep, The Alliance Theatre Co., The Mark Taper Forum, L.A.'s Tiffany Theatre, La Jolla Playhouse, Ford's Theatre in Washington DC, The New York Shakespeare Festival, Union Square Theatre in NYC, The Repertory Theatre of St. Louis, Cincinnati Playhouse, Center REP, The Intiman, A Contemporary Theatre, and Portland Center Stage. She has directed two operas, The Crucible and Lucia di Lammermoor at Opera San Jose. She is also an actress and is the recipient of New York's Obie Award for her performance in Still Life.