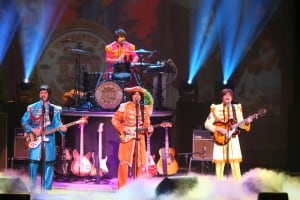 Fans of Broadway, hang on to your hats. Broadway San Jose in association with Team San Jose announced today a doozy of a line-up of seven shows for its 2010-2011 season, which kicks off in September.
Highlights include the South Bay debut of the ground-breaking Broadway show about hardship, redemption and the healing power of love, The Color Purple; a rendezvous with the sizzling Broadway smash hit Burn the Floor; the acclaimed Beatles concert Rain- A Tribute to the Beatles; and Stomp, an impudent symphonic rhapsody on found instruments from trashcans to zippo lighters—with some brand new surprises.
Seen recently in San Francisco at SHN, audiences will also be invited to prepare for the Sabbath with Tevye the Dairyman in The Fiddler on the Roof, soak up some sun on a matrimonial Mediterranean island with the ABBA-infused musical Mamma Mia!, or drop a dime in the jukebox and hand jive back to a time of poodle skirts and leather jackets with Grease.

Broadway San Jose, part of the national Nederlander Organization a family-owned business since 1912, brought Broadway back to San Jose with its inaugural season in 2009.
The season has been tremendously popular with the San Jose Center for the Performing Arts routinely sold out. Past shows this season included Monty Python's Spamalot, Spring Awakening, Riverdance and Avenue Q. The last show of the current season, Legally Blonde, premieres March 16, 2010.
BROADWAY SAN JOSE 2010-2011 SEASON

BURN THE FLOOR
September 21-26, 2010
Press night September 21, 2010.

RAIN – A TRIBUTE TO THE BEATLES
October 26-31, 2010
Press night October 26, 2010.

THE COLOR PURPLE
November 23-28, 2010
Press night November 23, 2010.
There will not be a performance on Thanksgiving, November 25.
Instead, there will be a 2pm matinee on Friday, November 26.

GREASE
January 18-23, 2011
Press night January 18, 2011.

FIDDLER ON THE ROOF
March 15-20, 2011
Press night March 15, 2011.

STOMP
April 12-17, 2011
Press night April 12, 2011.

MAMMA MIA!
June 7-12, 2011
Press night June 7, 2011.

WHERE: San Jose Center for the Performing Arts, 255 Almaden Blvd, San Jose