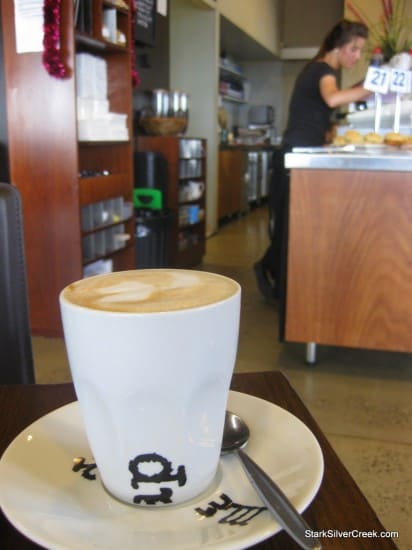 While in Australia, one of the best meals was surprisingly from a little eatery called Boonerwurrung Cafe which overlooks scenic vistas of Cranbourne's Royal Botanic Gardens.
I stopped in after a brisk tour of the botanic garden and before we had to depart. I wasn't expecting much from this little cafe. I peered into the glass case of ready-made snacks and meals and decided on the one last chicken, spinach and caramelized onion panini that was on the bottom shelf.
It really didn't look like much, but I figured it was a relatively healthy and portable choice. I had several indulgently rich business dinners and welcomed some simple fare.
The panini was much too big for one meal but split in two, it was a great choice for a snack I could save for later on. I paired it with a cappuccino to make sure that I was alert for the rest of the day of touring Australia.
The cashier who was also the waitress handed me a metal contraption with a number waving from the top to place on my table. A few minutes passed as I rested my aching feet. The panini had to be toasted.
What came did not look visually interesting. I took a sip of the cappuccino and it was creamy, hot and chocolate-y…a mark of superb execution. I bit into the panini and it was stimulating, yet comforting all in one bit. The chicken was tender and thinly sliced. The spinach nicely wilted and the cheese added a complexity and saltiness that brought out the sweetness of the caramelized onion. I would say if there was one ingredient that stood out, it was the caramelized onion. The bread had a nice robust, chewy texture that gave the entire creation structure.
By this time, our tour guide for the day was sitting across from me at the table watching me as I devoured half the panini with greedy anxiousness restrained by a desire to savor each bite.
A great meal is always something to be appreciated. However, when you are able to be surprised by a delicious meal in the most unexpected places with the most unsuspecting appearance, it is a tremendously gratifying experience.
I asked for something to wrap the other half of the panini with. The waitress came back with a sheet of brown wax paper. I placed the rest of my treasure at the center and brought the edges of the wax paper around it until I had securely protected it. I slipped it into my backpack, smiled and thought of the next time.
Boonerwurrung Cafe, Royal Botanical Gardens
Cranbourne VIC 3977
Australia
Phone: +61 (0)3 9252-2443