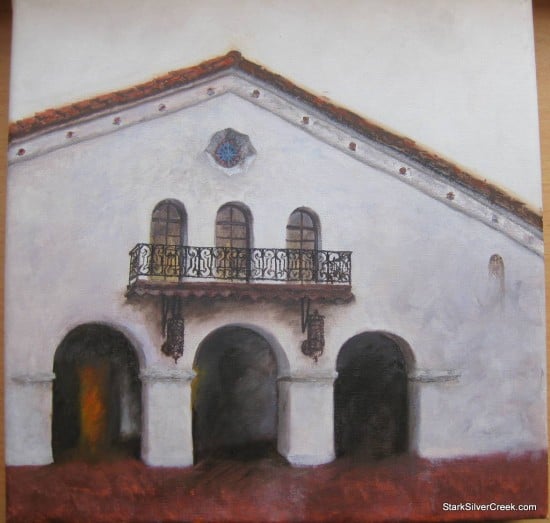 My oil painting of the Lucie Stern Theatre in Palo Alto is taking shape. This week I outlined the railings on the balcony and sketched in the parts of the building peeking through the entryway arches. Lee Hartman, my oil painting teacher glanced up at me this week as I stood holding the painting to get her critique and noted that I was improving.
I thought this week I would share a little history about the Lucie Stern Theatre which opened to the public on July 7, 1933 with a performance of Horace Hodges' Grumpy. The theater is named after its benefactor, Aunt Lucie who offered to build a community theater and deed it to the City if the City would allocate the land. Lucie's motto was "The things that will make others happy are the things worthwhile."
I was reminded of how beautiful this theater is when I attended TheatreWorks' latest production Sunsets and Margaritas.

During intermission on the Sunday matinee, Clint and I with coffees and chocolate chip cookies in our hands decided to walk outside into the radiant sunny day. Spring was in the air, I inhaled the sweet smell of blossoming plants and sat down on one of the many welcoming benches that dot the front of the theater. I took a sip of coffee, bit into my chocolate chip cookie…and smiled.
I then furrowed my brows. I do hope the final result of my painting will do the building, community space and Aunt Lucie justice.