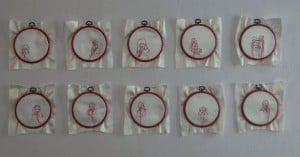 Fans of contemporary art, take note. Two new exhibitions open this week at the San Jose Institute of Contemporary Art (ICA). An opening reception takes place Friday, Feb 5 6-8pm. By A Thread is "an exhibition of artwork by emerging and mid-career Bay Area artists who create unexpectedly nostalgic, and poetic works using thread as their primary medium."
By A Thread will be exhibited in the Main Gallery from February 6 through May 15. The show includes work from artists Jody Alexander, Susan Taber Avila, Diem Chau, Lauren DiCioccio, Robin Hill, Nina Katchadourian, Lisa Kokin, Beili Liu, Katie Lewis, Emil Lukas, Victoria May, Ali Naschke-Messing, Lisa Solomon, Hadi Tabatabai, Nicola Vruwink, and Allison Watkins. An Artist Talk with By A Thread artists will be held on Thurs, March 11 from 7-9pm at the ICA.
"By a Thread is not an exhibition about precise or technically proficient sewing, embroidery or any other form of needlework," says Cathy Kimball, ICA Executive Director. "Rather, it is an exhibition featuring contemporary art that uses thread as a medium to communicate the ideas, visions, and conceptual explorations of the participating artists. In many cases, the artists included in the exhibition have found that the ubiquitous and centuries-old process of stitching can be used in innovative ways to create something new," explains Kimball. Thus, the exhibition will feature the work of artists who give fresh consideration to the value and function of traditional handiwork. The show will include small two-dimensional pieces and large-scale installations, as well as a wide variety of sculptural works.
Ted Fullwood: Energy Machines, is a "solo exhibition of fiber works created by San Jose-based artist Ted Fullwood who works in a variety of media including clay and mosaic."  Fullwood's abstract woven sculptural forms made from chenille stems – also known as pipe cleaners, exhibit rich color palettes, subtle variations, and complex textures. Fullwood's work will be on view in the Cardinale Project Room from February 6 through April 3.