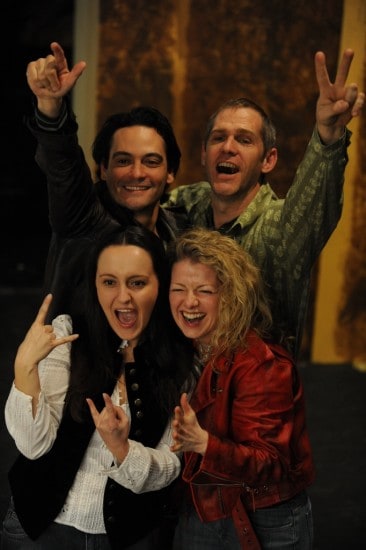 Tom Stoppard's Rock 'n' Roll is an epic, historical journey that explores the impact of rock and roll on the democratic movement in Eastern Block Czechoslovakia from the Spring of 1968 to the Velvet Revolution of 1989.
Even though the play is about three hours long with a 15 minute intermission, fitting two decades of history in this medium of storytelling is ambitious and the results intellectually and verbally dense.
Some of the dialog between Jan (Jonathan Rhys Williams) and Max (Julian López-Morillas) about the ideal and practice of Marxism, communism and socialism was thought-provoking and profound. In these parts, I wished I could rewind and repeat. If Rock 'n' Roll were a novel or essay, these are places I would be highlighting or making notes in the margin so that I could revisit and ponder for a couple of days or a week. In a play, such moments are fleeting and as the dialog presses on there was some remorse that I couldn't fully appreciate the subtext weaved in the dialog.
Perhaps, it is Stoppard's desire to create substance, real stories in the Czech history instead of just a series of celebrations in government-supported media that creates a substantive piece that is at times hard to digest.
Besides the intellectual provocation this piece provides, one of the strongest emotional connections I made during the performance was the interactions between Max and Eleanor (Ayla Yarkut). It was touching to connect what are theoretical discussions of political philosophies and perspectives on humanity to the personal level of the desire of individuals to be cherished and loved even when the physical essence of who they are is slipping away.
This emotional tension unfortunately, did not carry to the relationship between Jan and Esme (Maggie Mason, Ayla Yarkut). I could not feel a love that transcended time and political turmoil. Perhaps it was the wigs worn in the first act or the accents that seemed a little forced and unnatural.
With all of these themes in play, the one that surprisingly took a backseat was the actual rock and roll music. More vinyl was thrown in this production than played. The only time when you could feel the music adding moments of free spirit was at the start of the second act and at the end of the play. For a play that is called Rock 'n' Roll and the fact that I have attended numerous fabulous musical productions at the San Jose Stage Company, I had expected to be bouncing up and down a lot more in my seat than I actually did. A more prominent emphasis on the rock and roll elements could have added a bit more energy to an otherwise serious and epic piece. It also would have provided the contrast needed to give the piece more emotional angst and tension between the differing political views and ideals.
The production posters with the shattered vinyl and edgy red permeating throughout set me up for an evening of rock and roll. What was served was a somber and substantive piece on a tumultuous period in Czechoslovakia's history. It is wonderful to see San Jose Stage Company take on such an ambitious piece of work and to offer such variety in its season.