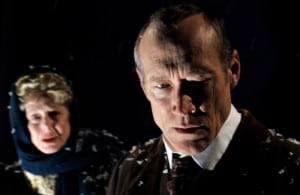 Aurora Theatre Company announced that its 18th season continues with Henrik Ibsen's rarely-produced masterwork John Gabriel Borkman, in a new version by David Eldridge.
Aurora Theatre Company founding Artistic Director Barbara Oliver, who directed the company's hit production of Ibsen's The Master Builder, returns to helm this fiercely relevant drama, featuring Bay Area stage veteran James Carpenter (The Master Builder) in the title role, and stage and television actress Karen Grassle (Little House on the Prairie) in her Aurora debut. Also featured are Karen Lewis, Jack Powell, Lizzie Calogero, Pamela Gaye Walker, and Aaron Wilton.
John Gabriel Borkman plays April 2 through May 9 at the Aurora Theatre in Berkeley.
The Borkman family fortunes have been brought low by the imprisonment of John Gabriel Borkman, who used his position as a bank manager to speculate illegally with his clients' money, ultimately losing the financial investments of hundreds of people. After serving eight years in prison for embezzlement, Borkman has spent the last five years making plans for a comeback, pacing alone in an upstairs room. Meanwhile downstairs, his estranged wife and her sister vie for the loyalty of Borkman's only son.
Written in 1896, and recently revived at London's Donmar Warehouse to great critical acclaim, Ibsen's penultimate play, hailed as a "magnificent" work of art by The Guardian (London), and called "riveting" by The Independent (London), reveals a family confined by an inescapable, unappeasable past, in a pointed indictment of capitalism, selfish ambition, and greed.