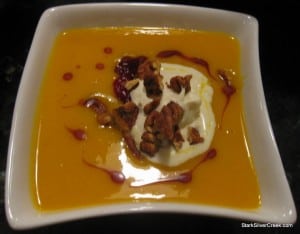 With Super Bowl just a few days away, it's time to start thinking about food and drink. Not just the Doritos and beer kind, but interesting combinations, and recipes that will keep the entire party entertained. One of my favorite meals during the rainy, winter months is soup. There's nothing quite like a large bowl to warm me up!
Surprisingly, soup pairs well with something else I thoroughly enjoy: wine. Believe it or not, it can be wonderful. Plus there are plenty of matches that work wonders, whether you like white or red wines. A few years back I attended Souper Bowl at Fenestra winery in Livermore, and was inspired so much that I thought I'd share some of the recipes here that stood out.
I've included the wine recommendations as well, but you can easily substitute your own favorites… although I'd recommend sticking with the suggested varietal for optimal, in-mouth delight!
Happy Super Bowl weekend. Here's to good eats, good friends, and good football!
Gimanelli's Three Mushroom and Red Wine Soup

Ingredients:
3 large onions diced
3 celery stalks diced
3 medium potatoes peeled & cubed
1 cup Fenestra Merlot
6 cups Chicken or Vegetable broth
1 tablespoon dry Porcini Mushroom boiled & diced
3 bay leaves
salt, black pepper & oregano to taste
½ lb Crimini Mushroom sliced
½ lb Portabella Mushroom sliced

Directions:
Put all ingredients in large pot except for the sliced mushroom; bring to boil until potato is tender.
Take the bay leaves out then puree mixture with food processor.
Put the mixture back on the burner and add sliced mushroom; cook until mushroom is tender.
Serve hot with slice of sour roll.

Serve with 2004 Fenestra Merlot!
Marla's Five Onion Soup

Ingredients:
6 cups onions-Example:
2 leeks (white and light green only), thinly sliced
2 medium red onions, thinly sliced
2 medium yellow onions, thinly sliced
1 bunch green onions, thinly sliced
2 shallots, diced
4 Tablespoons butter
1/2 Tablespoon flour
Pinch cayenne pepper
4 cups beef and/or chicken stock
1 cup Fenestra True Red ** Lot 21 **
2 or 3 sprigs fresh thyme
2 or 3 sprigs fresh parsley
2 Tablespoons cognac (optional)
Salt and fresh ground pepper to taste
1 cup freshly grated Parmesan or Gruyere cheese
4 croutons

Directions:
1. Melt butter in large saucepan over medium heat.
2. Add onions stirring occasionally until they begin to brown, 35-40 min.
3. Add flour and cayenne and stir until mixture is brown.
4. Add stock and wine, turn heat to medium high and bring to just about a boil. Turn down heat to simmer and add seasonings and cognac. Cook 20 minutes.
5. Take out the thyme and parsley sprigs.(At this point soup may be stored, covered and refrigerated, up to 2 days.)
6. Preheat oven to 400 degrees.
7. Place croutons in ovenproof bowls. Add soup and top with cheese. Place bowls on baking sheet and bake for 10 minutes or until cheese melts.

Croutons
Ingredients:
4 Tablespoons olive oil and /or butter
4 garlic cloves, peeled
4 slices bread (preferably stale-sourdough works best).
Directions:
1. Melt olive oil/butter in large skillet over low heat.
2. Add garlic and cook until lightly browned-remove from skillet.
3. Increase heat to medium and add the bread. Cook, turning occasionally, until brown on all sides.
4. Remove from skillet, draining on paper towels. Salt to taste.

Serve with a glass of Fenestra 2005 Touriga
Warren's Chili

Ingredients:
1 cup finely diced yellow onion
1 pound hamburger
1 15.25 oz. can kidney beans, undrained
1 15 oz. can pinquintos, undrained
1 15 oz. can tomato sauce
1 7 ¾ oz. can El Pato brand tomato sauce
½ cup Fenestra 2003 Livermore Merlot
1 14.5 oz. can diced tomatoes
3 TB. ground cumin
3 TB chili powder or to taste
Olive Oil
Salt & Pepper to taste

Directions:
1. In a large saucepan or dutch oven, lightly sauté onion in olive oil (enough oil to cover bottom of pan).
2. Add hamburger and cook until done, crumbling hamburger as it cooks. Spoon off excess fat.
3. Add remaining ingredients and simmer for at least 30 minutes before serving.

Topping Suggestions:
Corn Chips or Crumbled Tortilla Chips
Grated Cheddar or Jack Cheese
Finely Diced Onion

Serve with a glass of Fenestra 2001 Santa Lucia Cabernet
Old New England Clam Chowder

2 oz bacon
6 medium potatoes
2 large onions
3 cups water
1 cup Fenestra Chardonnay
2 small bay leaves
2 Tablespoons butter, softened
2 ½ tablespoons flour
5 cups milk
3 cups light cream
Salt, pepper to taste
2-3 cans minced clams

Dice the bacon and sauté until it is golden brown. Peel and dice the potatoes and onions and add them, together with the water and bay leaves, to the bacon. Boil until the potatoes are tender but not mushy.

Meanwhile, blend the butter and flour. Add this, the milk, the cream, the clams, and their juice to the potato mixture. Stir over low heat until the soup comes to a low boil and thickens slightly. Lower the heat and simmer for 5 minutes. Serve hot.

Serve with a glass of Fenestra Chardonnay!