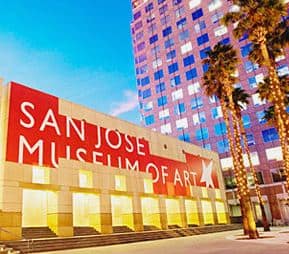 A new installation by acclaimed California conceptual artist Tom Marioni is now on view at the San Jose Museum of Art. Cocktail (Retire from Art and Take up Painting), is a group of 25 paintings Marioni made based on prints by well known masters of 20th-century art—including Marioni himself. Marioni meticulously copied prints by artists who have inspired him: Joseph Albers, Joseph Beuys, John Cage, Stuart Davis, Sonia Delaunay, Richard Diebenkorn, Marcel Duchamp, Mary Heilmann, Ellsworth Kelly, Ernst Ludwig Kirchner, Yves Klein, Sol LeWitt, Roy Lichtenstein, Kazimir Malevich, Henri Matisse, Joan Miro, Pablo Picasso, Jackson Pollack, Ed Rauscha, Man Ray, Oscar Schlemer, Frank Stella, and Wayne Thiebaud.
"Famous lay people retire from their professions and take up painting," said Marioni. "I haven't really taken up painting or retired from art: I made a Conceptual project that included painting."
"Tom Marioni brings his wry, down-to-earth sense of humor to this new work, in which he pays tribute to the legendary artists who inspired him," said Susan Krane, Oshman executive director of the San Jose Museum of Art. "With deadpan resolve, he carefully copies images that were originally produced as multiples, which often we may 'know' only via second-hand reproduction in books, magazines, or the Internet. Marioni elevates an editioned work on paper into the traditionally 'elite' status of one-of-a-kind painting and creates his personally crafted cocktail of art history in the process. "
Born in Cincinnati and based in San Francisco since 1959, Tom Marioni is a "social sculptor" who works in a wide variety of media, from performance to drawing. An early Bay-Area conceptual artist, he is known for bringing his on-target but laid-back humor to the often self-serious practice and for expanding beyond the traditional definitions of art. Marioni's performance piece, The Act of Drinking Beer with Friends is the Highest Form of Art (1970, now in the collection of the San Francisco Museum of Modern Art), has become legendary. Also in 1970, Marioni founded the Museum of Conceptual Art, San Francisco, as "a large-scale social work of art." In Tree, Drawing a Line as Far as I Can Reach, (1972), he set up a theme that he has developed for twenty-eight years by using a repetitive activity, his own or others', to create an image. His 2003 memoir, Beer, Art and Philosophy has become a classic. Marioni's work is in the collections of the Oakland Museum of California; Orange County Museum of Art, Newport Beach, CA; San Francisco Museum of Modern Art; Museum of Modern Art, New York; and the M.H. de Young Memorial Museum, San Francisco.