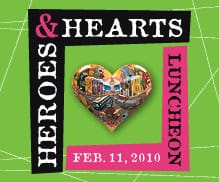 The fifth annual Heroes & Hearts luncheon takes place today at Union Square in San Francisco. Proceeds support the San Francisco General Hospital Foundation (SFGHF). To date, over $5M has been raised by Heroes & Hearts.
In addition to the luncheon, this year SFGHF is also hosting Hearts After Dark, an evening event in the same venue from 1-10 PM on Thursday, February 11, 2010. Hearts After Dark will be an evening of cocktails, hors d'oeuvres and live entertainment featuring 80s cover band Tainted Love and DJ Solomon. This event will introduce a younger generation of San Franciscans to the services offered by SFGH and be a great party to kick off Valentine's Day weekend in one of San Francisco's most beautiful and iconic locations.
In addition to spotlighting exceptional community heroes, 14 new Hearts in San Francisco artworks will be displayed. Six table-top hearts will be sold, with the proceeds going to support the Foundation.
StarkSilverCreek was able to catch up with Pam Baer, who is an SFGH Foundation Board member and co-founder of the luncheon and founder of Hearts After Dark, to ask her about today's events.
SSC: The Heroes & Hearts luncheon and the Hearts After Dark events span day and night. What does it take to pull off something like this in Union Square in San Francisco?
Pam Baer: It takes a dedicated team to transform Union Square into the beautiful space for the luncheon. This year it's even more complex. In the course of a few short hours, the tent will transition from the luncheon to a chic space with décor that reflects a modern lounge-night club aesthetic. The event will have a fun yet sophisticated vibe, making it easy for guests to socialize and enjoy fabulous the entertainment popular 80s cover band Tainted Love, DJ Solomon and a performance by Beach Blanket Babylon.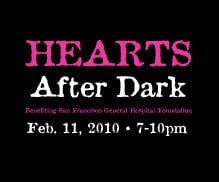 SSC: Who are some of the most memorable heroes over the years and what are some of the outcomes you are most proud of?
PB: Over the past five years, we have been able to recognize the efforts of some extraordinary individuals. The work the heroes do is always amazing, and this year's honorees are no exception. The have gone out of their way to do something remarkable for San Francisco.
Clem Donahue, MD works with victims of youth violence. Amalia Fyles, RN has dedicated her career to educating and reducing diabetes in minority populations, where cases often go unchecked. Tony Stefani works with active and retired firefighters to test for and reduce incidents of cancer related to their occupation. Sara Miles and Michael Reid lead the Food Pantry, which is seeing an increased demand due to the difficult economic times. Marsha and Bruce Dyer are doing remarkable work for traumatic brain injury through their foundation, named in honor of their daughter Ashlyn who was struck and killed in the Presidio in 2006.
We are so proud that we have been able to create awareness and support for the amazing things The General does. The previous luncheons and the original Heats in san Francisco (2004) have raised a combined total of $5 million dollars for the SFGH Foundation, which then is able to support several SFGH programs and services.
SSC: As Heroes & Hearts grows each year, what are some of the challenges and opportunities that lay ahead.
PB: The support of individuals and companies in San Francisco for Heroes & Hearts has been amazing. The amount of support has lead to a sell out of the luncheon.
We saw the opportunity to expand on the luncheon's success and create awareness about The General's importance to our community. That's where the idea for Hearts After Dark came from. This evening event can appeal to a younger set of professionals, who we hope will be the next generation of supporters for The General.
ABOUT SAN FRANCISCO GENERAL HOSPITAL FOUNDATION
San Francisco General Hospital Foundation (SFGHF) is an independent not-for-profit corporation 501(c)(3) that provides fund-raising support to San Francisco General Hospital and Trauma Center (SFGH). The mission of SFGHF is to augment public funding by raising private support to further improve patient care and comfort at the Hospital. This vital funding allows SFGH to continue its long history of providing quality health care to San Francisco and the Greater Bay Area. Some of the programs funded wholly or in part by the Foundation include the ACE Unit (Acute Care for Elders), Avon Comprehensive Breast Care Center, Cancer Awareness Resources Education(C.A.R.E.), Institute for Global Orthopedics and Traumatology (IGOT), Orthopedics Trauma Center of Excellence, The Children's Fund, The Trauma Center, and the Women's Health Initiative. Last year, the Foundation raised over $10 million in private individual gifts and corporate and foundation grants. For more information, visit www.sfghf.net.