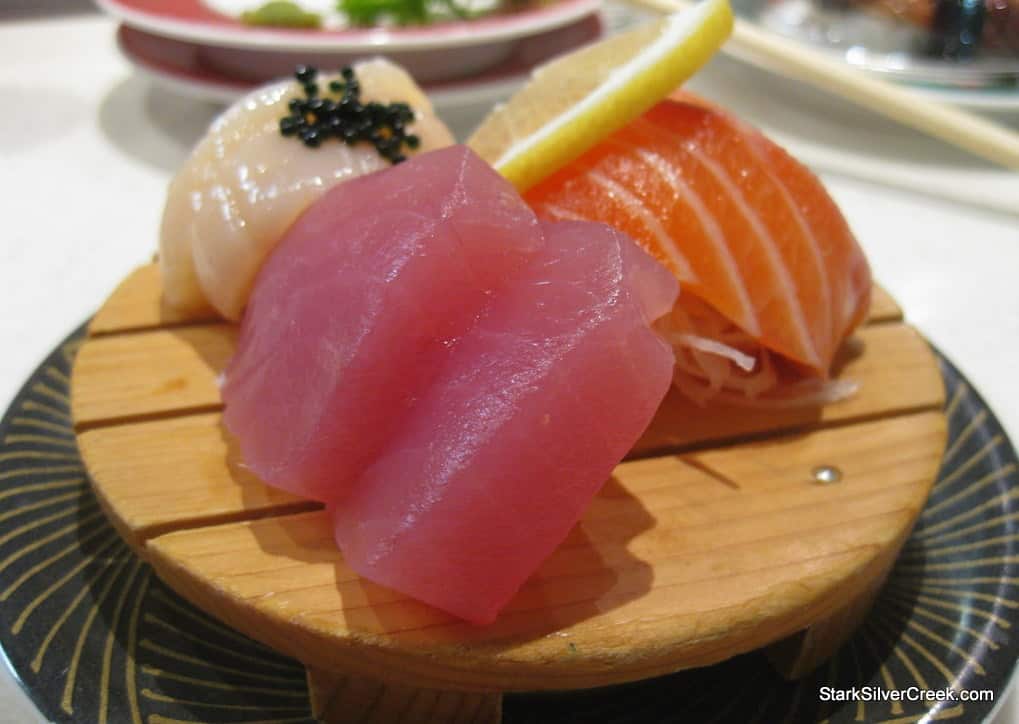 A particular discussion involving avocado and iron chefs prompted me to have visions of sushi and I just had to dig up these photos I took of Hanaichi Sushi Bar, a place I discovered on a Sunday evening in Brisbane, Australia. I had just landed in Australia earlier that day after a long flight from California. I quickly learned that restaurants in Brisbane close very early on Sundays and by the time I was hungry for dinner, almost every restaurant had the "Closed" sign.
Just as I was about to give up and enter into a fast food sandwich shop, I stumbled across the Wintergarden mall which seemed to have some night-life energy on a warm spring evening. With nothing to lose, I went up a set of escalators along the main promenade as a last attempt to find something appetizing. My curiosity was rewarded as I found a sushi bar oasis at the top of the escalators with the white stone sign that stated, "Hanaichi".



It was clear the place was still open as the sushi bar had little plates of sushi rotating around and two sushi chefs busily at work restocking the gaps where hungry sushi lovers had plucked off their selections.
With a ravenous appetite, I started with a salad so that I wouldn't overdose on sushi and they would have to roll me out like a plump sushi roll. There is a reason why my nick name used to be "sushi weakness".
The salad was good. However, I will confide in you that after tasting their sushi, I would recommend you skip this prelude and jump right into the raw fish.
I started with some of my favorite traditional selections. Hamachi (yellowtail) and Eel (unagi which is the salt water eel, they didn't have anago which is the fresh water eel that I enjoy even more).
After some nigiri sushi, I decided I was ready for some of the pure stuff. Hanaichi had a good selection of sushi plates and a small sashimi plate caught my eye. It was beautifully arranged and a delight to unwrap each of the raw pieces of fish, place a smear of wasabi and dip into some soy sauce.
Having tried their traditional sushi and found the fish selection to be very fresh, I decided I wanted to try one of their more creative expressions of sushi. I found the perfect candidate wrapped nicely into two packages on a sushi plate that had my name written all over it. It was a piece of salmon nigiri sushi topped with a mayo-cream sauce, fresh avocado, fish eggs and thinly sliced cabbage for a slight crunchy texture. They were delicious. I find you can enhance the flavor of raw fish by adding texture (fish eggs, rice, cabbage) and enhancing the fattiness of the fish (mayo, avocado). However, it must all be done in the right balance of flavors and proportions or you can easily overwhelm the delicate flavors of the fish. For some that don't care for raw fish, this may be just fine. For someone who as an obsession for this raw delicacy, I really consider this a crime.
It was a very zen experience to be by myself, at a sushi bar and completely focused on the little plates floating by. I had a ravenous stomach, but it was nothing compared to my sushi gaze. Sigh, if only I could eat digital pics.