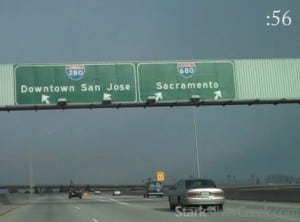 Another week of San Francisco Bay Area living, west coast style. Here's the weekly video rewind, gone in 60 seconds.
Adobe Youth Voices kicked off this weekend. In partnership with the Cinequest film festival, the program brings together aspiring 13-18 year old fimmakers with mentors, professionals of the trade. Five teams meet on three Saturdays to bring a 10 minute film from concept to completion.
The final results will be shown on the big-big screen during the CQ fest on March 6 11:00AM at the Camera 12 cinema.
Hearts came out in force last week for the Heroes & Hearts luncheon, followed by the Hearts After Dark celebration at Union Square. Proceeds benefit the San Francisco General Hospital Foundation.
On Saturday night, Rock 'n' Roll opened at The Stage, downtown San Jose. Communism and rock music, with a dissonant beat.