Alejandro Adams is a Cinequest veteran. His newest film Babnik (Russian slang for "womanizer"), a World Premiere about the Russian sex trade, marks his third feature to be screened at the festival. Our very own Loni Kao Stark from SSC caught up with him at the media launch party to discuss the film and Cinequest.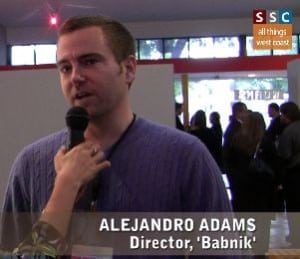 When asked about the inspiration for the film, Adams says, "Basically I just wanted to work with some of these actors I've known from other projects in the Russian community and we wanted to make more of a traditional thriller and that was a subject I'd seen treated in other films. I felt like it was always glossed over and a little too glamorous."
Adams has been based in the Bay Area and San Jose for about 7 years now.
He has received several accolades and increasing recognition across the industry. Variety wrote that the second feature (Canary) by Alejandro Adams "confirms him as an arresting talent." Village Voice said, "Micro in budget, macro in ambition, accomplishment, and scope, Adams's slyly withholding film prompts multiple viewings–and deserves them."
It will be exciting to see how Babnik is received at Cinequest 20. I admit it's a bit like watching the home team. Being in San Jose, it tingles our indy film-loving nerves to see locals do well, and rise to the International ranks.