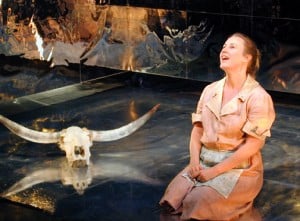 On Saturday, February 27 at 1pm, Cutting Ball Theater will present a reading in New York City at New Dramatists, one of our country's premier centers for the development of playwrights. Cutting Ball Associate Artist and frequent collaborator, Eugenie Chan, is a member of New Dramatists and her brand new play Diadem will be read publically for the first time by Associate Artistic Director, Paige Rogers, along with the much acclaimed Bone to Pick, which was part of Cutting Ball's 2008 season.
Both are one-woman takes on the classical tale of Ariadne, Theseus and the Minotaur — a triangle of sorts.
In Diadem, Ariadne as a giggling Minoan princess, dreams of the return of her hero husband to Naxos. Bone visits her 3000 years later in a diner at the end of a post-apocalyptic world. An exploration of love, war, and complicity.
Bone to Pick and Diadem will cap off Cutting Ball's 2009-2010 season.