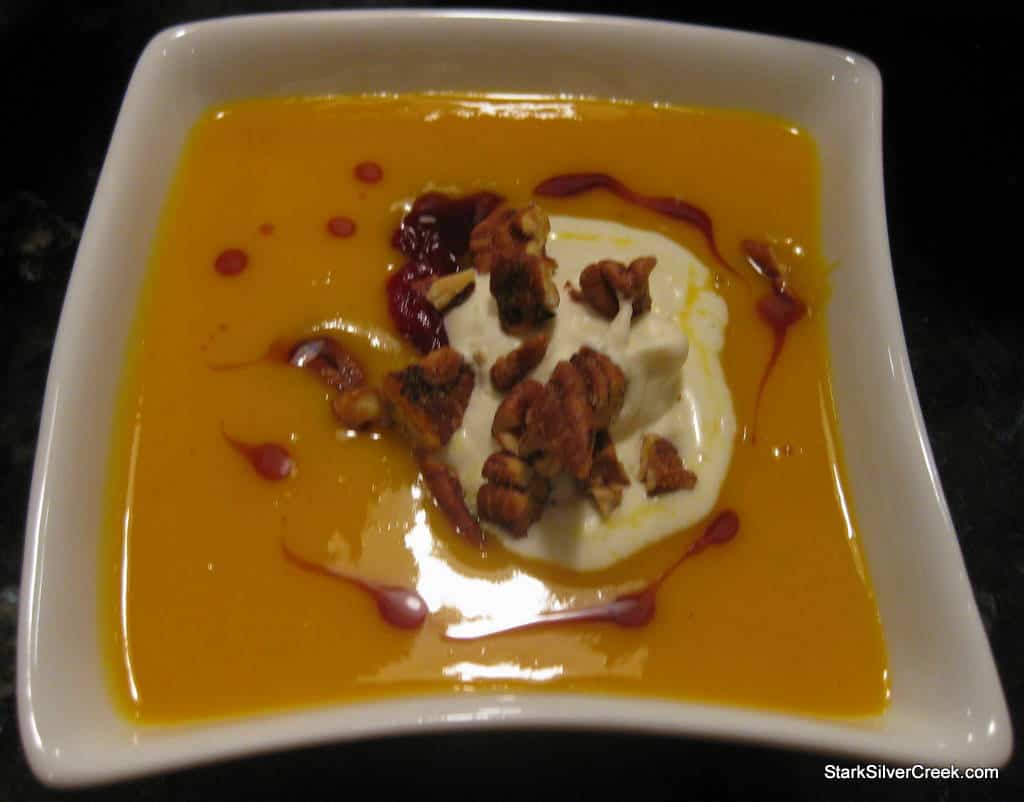 Inspired by a Wolfgang Puck recipe, Susan O—'s "Cozy hugs on a winter evening" Roasted Winter Squash Soup recipe was the highlight of a meal I savored at Chez Susan's a couple of weeks back.
In the cold and wet winter months here in the Bay Area, I can't think of a better way to start a dinner than with a hot, rich soup. I love this soup. I could have sipped on this soup for the entire evening.
Here are the ingredients you need to make sure you have plenty of warm hugs to go around.

Susan O—'s "Cozy hugs on a winter day" Roasted Winter Squash Soup

3 3/4 pounds of pumpkin
1 Kabocha squash (I've been told you can use any varietal of squash if you can't find this kind, but this is the varietal that has me still pining for more soup.)
3/4 teaspoon of salt
6 tablespoons of butter
1/4 teaspoon of ground nutmeg
1/8 teaspoon of ground white pepper
5 shallots peeled and finely diced
1/4 teaspoon finally grated ginger
1/4 teaspoon ground cardamom
4 cups of homemade turkey stock
1 cup of heavy cream (you may substitute with almond milk for lactose intolerant diets
1 sprig of fresh rosemary wrapped in a tea bag
Preheat the oven to 350 degrees Fahrenheit.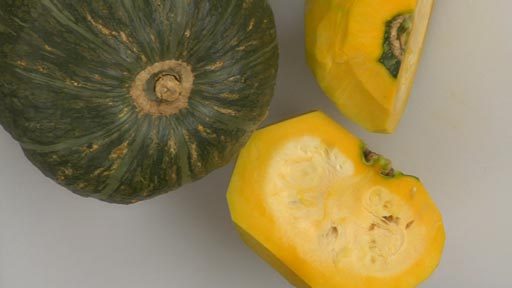 1. Cut each squash in half and remove all seeds. Brush each of the cut sides with a mixture of 2 tablespoons of melted butter, salt and pepper. Place the squash on a baking sheet with the cut sides down. Bake until the flesh of the squash is tender which should take about 1 hour and 45 minutes. Once the squash is cool from the oven, scoop out the flesh into a large bowl and puree using a food processor.
2. In a medium stockpot under low heat, add the 4 remaining tablespoons of butter. Add the shallots and cook until tender. Add the pureed squash. Stir to combine and allow the mixture to simmer under very low heat. Do no allow the soup to boil. Season to taste with pepper, ginger, salt and cardamom.
3. Add the turkey stock and bring it to boil. Stir frequently. This should take about 25 minutes.
4. In a small sauce pot, heat the cream with the rosemary which is in teabag. When the cream has been heated and the rosemary essence has infused into the cream, pour the cream into the rest of the soup and use an immersion blender to to blend.
The soup is ready. To garnish it, ladle the soup into a bowl and garnish with:
cardamom cream (1 cup of heavy cream brought to bowl with cardamom seeds, reduce down to 1/4 cup. Cool down. Whip remaining 1 cup of cream until it forms stiff peaks and fold in the other mixture).
chopped spiced caramelized pecans which can be purchased from Trader Joe's. You can make your own but not really worth the effort.
pumpkin seed oil which can be drizzled on the soup. You do not want to substitute anything else for this, the pumpkin seed oil was such a treat.
If hugs were soups, this would be the warmest of hugs, lightly kissed with crunchy sweet pecans, spicy pumpkin seed oil and aromatic cardamom cream. Nothing beats it on a damp, winter evening.