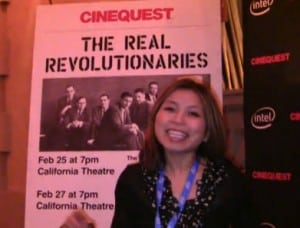 Once there were orchards, now there are silicon chips. Everywhere. In everything. Last night at the California Theatre, The Real Revolutionaries, a new film about the pioneers of Silicon Valley, premiered at the Cinequest Film Festival. Like the early days of the Napa Valley, these are the cowboys who dared to challenge the status quo, dream big, and change the world. One transistor at a time.
The film was written by Mark Monroe (writer of the Oscar-nominated The Cove and The Tillman Story), directed by Paul Crowder (Riding Giants), and produced by Morgan Sackett (Seinfeld). A world premiere, it documents the compelling story of Robert Noyce, Gordon Moore, and the "Fairchild Eight" as they built Silicon Valley from the ground up.
SSC was on location to catch the action. I met up with some of the filmmakers and was interested to learn the motivations behind the film.
Pay close attention. You may even see a Droid vs. Nexus One shootout (thanks Clint!) in honor of this special night of technology and film.
It was yet another electrifying (to borrow an expression I heard somewhere…) Cinequest event.