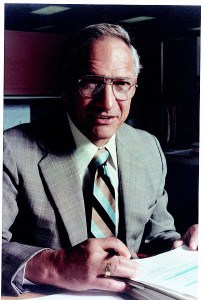 It doesn't get any better than this. What could me a more perfect venue than Cinequest and the California Theatre to host the premiere of the new film The Real Revolutionaries, the story of Silicon Valley?
The film documents the compelling story of Robert Noyce, Gordon Moore, and the "Fairchild Eight" as they built the Silicon Valley from the ground up and became the driving force behind the digital age. Destined to change the world through technological innovations, these magnificent individuals re-invented the American Dream, creating "Technology for the greater good."
The screening begins at 7pm and is followed by a panel discussion including:
Julius Blank- Semiconductor pioneer and one of the "Fairchild Eight"
Federico Faggin- Lead designer of the first microprocessor
Leslie Berlin- Project Historian for the Silicon Valley Archives at Stanford. Her biography of Robert Noyce is called The Man Behind the Microchip: Robert Noyce and the Invention of Silicon Valley.
Michael S. Malone- Columnists for ABC News, op-ed contributor for the Wall Street Journal and a contributing editor for Wired
Morgan Sackett- Producer of The Real Revolutionaries (Producer of Seinfield)
Paul Crowder- Director of The Real Revolutionaries (Editor of Riding Giants, the acclaimed documentary about surfing)
Mark Monroe- Writer of The Real Revolutionaries (Writer of the Oscar-nominated The Cove and The Tillman Story)
While there have been many films and documentaries about Silicon Valley most, such as The Pirates of Silicon Valley (1999), have focused on recent history with the battle between Apple (Steve  Jobs) and Microsoft (Bill Gates) a particular favorite.
However, the founding of Silicon Valley actually dates back to the 1950s when Robert Noyce ("the Mayor of Silicon Valley") co-founded Fairchild Semiconductor, and then Intel in 1968.
Intel's headquarters building, the Robert Noyce Building, in Santa Clara, California is named in his honor.
In his last interview, Noyce was asked what he would do if he were "emperor" of the United States. He said that he would, among other things, "make sure we are preparing our next generation to flourish in a high-tech age. And that means education of the lowest and the poorest, as well as at the graduate school level."