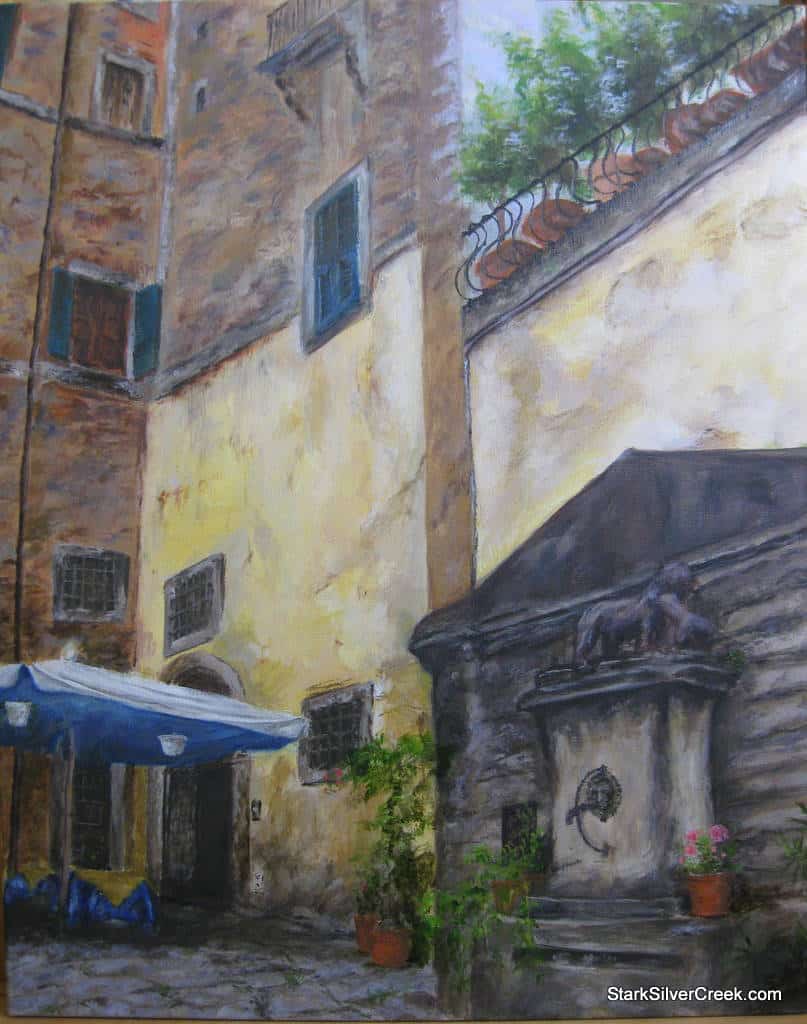 This week, I adjusted the tone of some of the walls. However, the main focus was on the greenery in the foreground which I was looking forward to painting because it really adds a pop of color to the piece and softens up the fountain's stone facade. I also put in the white pots that are hanging from the dining umbrella. Currently, they just look like they are floating in mid-air, but next week, I'll add the hanging plants to them and hints of the hooks that they are hanging from.
The part of the painting I am least pleased with at this point are the potted trees at the top of the right building. They seem too blotchy to me. I spent some time adding some of the background color to the trees so that they looked more leafy with the color of the building sneaking through the spaces between the leaves. I think it has improved them a bit but more work is needed.

I realized this week that painting is just as much about observation as it is about applying paint to a canvas. The advice Lee gave to darken certain areas of the painting or adjust the colors in other areas really help to improve the visual depth of the painting. Each time she notes one of these changes, I look back at the photo and would agree with her suggestion. It is a skill I need to hone.
One thing I note Lee does is she will stand far away from the painting, take a hard look at the photo or object that is being painted, and then quickly switch her gaze to the painting. What she is really focused on is the light and dark tones in the painting and if the values match up to those of the photo.