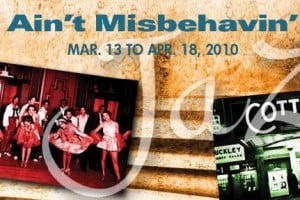 San Jose Repertory Theatre announced that the musical revue Ain't Misbehavin' will hit the stage March 13. The Tony award-winning musical features 30 songs by Thomas "Fats" Waller and will be directed by Kent Gash and is based on an idea by Murray Horwitz and Richard Maltby, Jr.
"I'm so pleased to be starting our spring season at The Rep with the energetic, incredibly tuneful and powerful experience that is Ain't Misbehavin' – a celebration of "Fats" Waller's music and his times," said Artistic Director Rick Lombardo. "I first saw Kent Gash direct this show at Trinity Rep back East a few years ago, and I loved his take on the world of the show, and on the characters in the music. And being a musician myself, I can't wait to hear that seven piece band wail on our stage to "Fats'" great tunes. It's going to be a real house party at San Jose Rep in March!"
The joint is jumpin' to the music of Thomas "Fats" Waller in this Tony® Award-winning musical revue. Five phenomenal artists and a jumpin' jazz band take you through the pain and triumphs of the African-American experience during the Harlem Renaissance of the 1920s and 30s. It was the Golden Age of Jazz with places like the Cotton Club and Savoy Ballroom where snappy swing music, snazzy jazz and the stride piano infused the energy of the country.