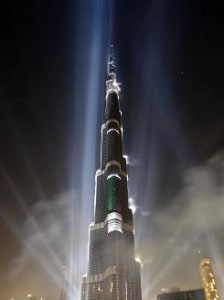 2,717 feet. That's the number to beat to earn the title of world's tallest building. Perhaps a signal of where this century's power and wealth will emerge, United Arab Emirates seems like an appropriate location for the modern, multi-tiered tower.
It cost $1.5B to build and includes luxury amenities throughout, including a library and hotel by Giorgio Armani.
Dubai had, at least last decade, enjoyed a massive economic boom, seeing real estate, luxury shops and all manner of high end living explode across the land.
However, times have changed.
Much like the rest of the world, Dubai has suffered tremendously from the global economic meltdown. So the big question now is what businesses will occupy the building?
If the vacancy rates remain high, it's going to take a lot of $27 observation deck ticket sales to cover expenses.
[Source: USA Today, Dubai names tallest building after bailout patron]