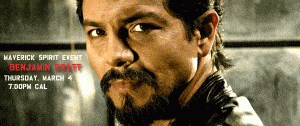 Cinequest tickets, film and event information are now live. Please go here to enjoy a twentieth anniversary line-up that will astound, electrify, inspire, pioneer and make you laugh.
Highlights include:
Life of a Maverick Award recipient Deepak Chopra
Maverick Spirit Award winner Benjamin Bratt with a special screening of La MISSION.
Directors of global impact including Dagur Kari(Opening Film The Good Heart, Noi the Albino)Mika Kaurismäki ( The House of Branching Love, The Sound of Rio: Brasileirinho, Moro No Brasil),Alain Resnais ( Wild Grass, Hiroshima mon amour), Joon-ho Bong (Closing film Mother , The Host)
A record 76 U.S., North American, and World Premieres
Forty-five countries represented in global film program
Artist & Innovator Forums including 3D andMastering the Art of Maverick Filmmaking with the Olson Brothers
Superb state-of-the-art venues (palatial California Theatre, Camera 12 Cinemas, Camera 3 Cinemas, and the San Jose Repertory Theatre) and added screens equipped with digital servers, digital and 35mm projection, as well as select 3D all within a four block radius
Enhanced customer service with pioneering Cinequest Interactive Scheduler and Application for the iPhone, Blackberry and Cinequest web site
Expansion of Soiree events, connecting artists, innovators, media and film lovers to occur nightly
Encore Day screenings of this year's Cinequest Award Winners
Films starring Brian Cox (The Good Heart, Troy),Pierce Brosnan (The Greatest , The Thomas Crown Affair), Susan Sarandon (The Greatest,Dead Man Walking), Carey Mulligan (The Greatest, An Education), Patrick Warburton (The Action Hero's Guide to Saving Lives, Seinfeld),Tabrett Bethell ( Anyone You Want, The Legend of the Seeker), Laura Silverman (Cummings Farm ,Sarah Silverman: Jesus is Magic), Paprika Steen(Applause, The Substitute, Adam's Apples), Paul Dano (The Good Heart, Little Miss Sunshine), Zoe Kazan ( The Exploding Girl, It's Complicated),Benjamin Bratt (La MISSION, Miss Congeniality),Zach Galifianakis (Little Fish, Strange Pond, The Hangover), Matthew Modine (Little Fish Strange Pond, Weeds), Callum Blue (Little Fish, Strange Pond, The Tudors), Robin Tunney ( Passenger Side, The Mentalist), Adam Scott (Passenger Side, Step Brothers), Ravi Kapoor ( Raspberry Magic, Heroes), James Franco (The Feast of Stephen, Spider-Man), Adam Baldwin (Little Fish, Strange Pond, Chuck), Paul Adelstein (Little Fish, Strange Pond, Private Practice), Liza Weil (Little Fish, Strange Pond, Gilmore Girls), Nancy Kwan(To Whom It May Concern, The Flower Drum Song), Joan Chen (To Whom It May Concern,Lust, Caution), France Nuyen ( To Whom It May Concern, South Pacific), Vivian Wu (To Whom It May Concern, The Last Emperor), Michelle Forbes(Diplomacy,True Blood), Lewis Black ( Ollie and the Baked Halibut, Unaccompanied Minors,), Lena Headey (The Devil's Wedding, 300)