Guest post by Pat Reardon.
Jean Webster's charming 1912 novel Daddy Long Legs is the inspiration for TheatreWorks newest production. This delightful world premiere romantic musical is a feast for the spirit.
Webster's classic novel tells the story of Jerusha Abbott, a talented orphan who unexpectedly receives the gift of a new life. To her astonishment, one of the trustees of the orphanage where she grew up generously sponsors her for a college education. Her only obligaton is to write regularly and update him on her progress.  Over the years these letters weave the tale of her transition from an inexperienced child to a sophisticated witty woman. Although her letters are never responded to, her growing love for her mysterious benefactor is the central theme of the production. The delightful romance builds throughout the evening to its predictable conclusion.
This TheatreWorks presentation is one of the most professionally delivered production that we have seen on the Peninsula in a very long time.
John Caird (director, book), Tony award winner for Les Miserables and Nicholas Nickleby is well noted for his productions in London and elsewhere across the globe. Paul Gordon (music and lyrics, orchestrations) is a Tony nominee for his work on the Broadway production of Jane Eyre. David Farley is responsible for the stately set which cleverly uses back lighting and a collection of period trunks to let the audience's imagination travel from one location to another. The passage of time is marked by a creatively designed electronic optical light that scripts dates and locations across the set.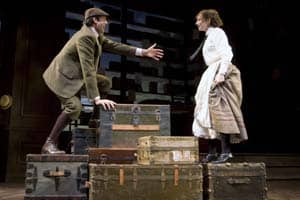 The true highlight of the evening is Megan McGinnis as Jerusha.  McGinnis herself has considerable Broadway experience including playing Cosette in Les Miserables and Belle in Beauty and the Beast. It shows.  Her Jerusha is engaging, endearing and completely guileless. She is a pleasure to watch and listen to.  Her voice is sweet and strong. Robert's Adelman Hancock's portrayal of the prickly Jervis Pendleton is capable and dignified in a role that doesn't give him much to work with.
With all of heft and experience that the creators bring to this production, the music is sadly lacking in depth. Although pleasant, it is repetitious and without distinction. It is one regrettable but important piece in an otherwise sensational show.
Daddy Long Legs runs through February 14, 2010 at the Mountain View Center for the Performing Arts.
Daddy Long Legs
4 out of 5 stars
TheatreWorks Production
Directed by John Caird
Written by John Caird
Music by Paul Gordon
Starring Robert Adelman Hancock and Megan McGinnis