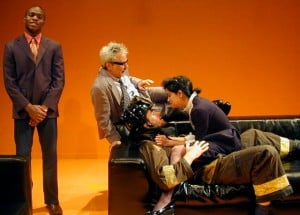 Due to popular demand, the Cutting Ball Theater announced that it will again extend its hit production of Eugène Ionesco's comic masterpiece The Bald Soprano. Performances of the theater's tenth season opener now run until January 24, 2010.
In The Bald Soprano, Mr. and Mrs. Smith invite Mr. and Mrs. Martin over for a cheerful dinner. Plans for a sedate evening soon give way to hilarious chaos as polite conversation turns to confusion and the two couples engage in an escalating battle of linguistic acrobatics. Simultaneously comic and profound, it's a play that breaks all the rules.
Co-founded in 1999 by theater artists Rob Melrose and Paige Rogers, Cutting Ball Theater presents avant-garde works of the past, present, and future by re-envisioning classics, exploring seminal avant-garde texts, and developing new experimental plays. Cutting Ball Theater has partnered with Playwrights Foundation, Magic Theatre, and Z Space New Plays Initiative to commission new experimental works. The company has produced a number of World Premieres and West Coast Premieres, and re-imagined various classics. Recipient of the 2008 San Francisco Bay Guardian Goldie award for outstanding talent in the performing arts, Cutting Ball Theater earned the Best of SF award in 2006 from SF Weekly, and was selected by San Francisco Magazine as Best Classic Theater in 2007.