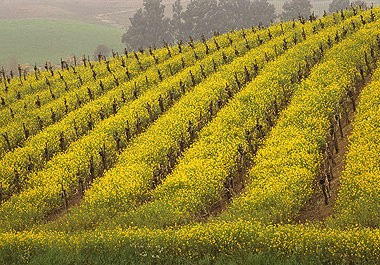 The 17th annual Napa Valley Mustard Festival will burst into bloom in January of 2010. The Festival's line up of stellar events, January 30 through March 27, takes place when wild mustard blooms in the vineyards, offering visitors from far and wide immersion in the legendary wine region's good life.
A SEASON OF SENSATIONAL EVENTS
Celebrate Napa Valley's unique agricultural and cultural bounty during the 176hannual Napa Valley Mustard Festival. An impressive collection ~ the who's who of Napa Valley restaurants, caterers and wineries; mustard and gourmet companies from around the world; regional artists and national sponsors ~ will present their finest throughout The Season. Vineyards vibrant with wild mustard in bloom provide a breathtaking backdrop and share center stage with mustard the condiment during the two-month marathon of food, wine and art events.
YOUR HOSTS
Meet Napa Valley Mustard Festival Host Chef Anne Gingrass, Executive Chef, Brix, Host Winemaker Julianne Laks of Cakebread Cellars and Host Artist Thomas Monaghan at the events. The Grand Dinner on Friday, February 19 at Brix is limited to 100 and provides an excellent opportunity to mingle with Napa Valley Mustard Festival Hosts, as well as notable guest chefs and winemakers.
For more information and to buy tickets for live events, visit the Napa Valley Mustard Festival.