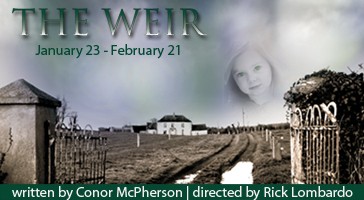 When a story is told well enough, one will follow it anywhere. Even to unexpected places, such as isolated, rural Ireland. In Conor McPherson's utterly alluring play, The Weir, the denizens of a rural Irish pub attempt to break the silence by sharing hauntingly beautiful tales about the natural and supernatural. This Laurence Olivier BBC Award Winner for "Best New Play," is directed by Artistic Director Rick Lombardo. Previews for The Weir begin Saturday, January 23, and opening night is Friday, January 29. Cooking with Turf, an acoustic Irish band performs on Opening Night; music starts at 6:45 in the Rep lobby and is included in the ticket price. The show closes Sunday, February 21, 2010. Pay What You Will Tuesday is Tuesday, January 26 at 7:30pm. Press Opening is Friday, January 29 at 8:00 p.m.
"I'm so happy to be revisiting the world of The Weir with this production," comments Artistic Director Rick Lombardo. "I first directed this play in its New England Premiere in 2000, and its characters have stayed with me in such a powerful way that I wanted to share them with our community in my first season. And what could be better on a dark, mid-winter night than spending an evening in a pub listening to a few ghost stories?"
Valerie (Zillah Glory) has moved from the city of Dublin to rural Ireland. Her real estate agent, Finbar (Andy Murray), brings her into a pub where a group of lonely souls seek refuge from the bluster of the outside world. By telling stories, they create a haunting and poetic sense of family to break the silence of their isolation. When they discover Valerie has moved into a house considered "haunted," the tales of the supernatural begin. Small mysteries evolve into eerie astonishments as the ghostly storytelling soars into liberating confessions of love, loss and loneliness. Half-hidden wounds are revealed throughout an evening of drink and ego-driven rivalry for Valerie's attention, bringing these drinking buddies together in unexpected and deeply felt ways.
Conor McPherson was born in Dublin in 1971. He attended the University College in Dublin where he began to write and direct. His plays include Rum & Vodka, The Good Thief, This Lime Tree Bower, St. Nicholas, The Weir (Olivier Award, Best Play), Dublin Carol, Port Authority, Shinning City (Tony® Award nomination, Best Play) and The Seafarer. Film work includes "I Went Down," "Saltwater," Samuel Beckett's "Endgame" and "The Actors." Other awards include the George Devine Award; Critics' Circle Award; Evening Standard Award; Meyer Whitworth Award; Stewart Parker Award; two Irish Film & Television Academy Best Screenplay Awards; CICAE Best Film Award, Berlin Film Festival ("Saltwater"); Best Film and Best Screenplay Awards, San Sebastian Film Festival ("I Went Down").
Rick Lombardo is in his second season as Artistic Director of San Jose Rep. He was previously the Artistic Director for thirteen years at the award-winning New Repertory Theatre, the leading mid-size resident theatre in the greater Boston area. Last spring, he was awarded the Norton Prize for Sustained Excellence from the Boston Theatre Critics Association for his work at New Rep. He has also been the recipient of four individual Elliot Norton Awards and is a nine-time winner of the "IRNE" award for his productions of The Clean House, Sweeney Todd, Rosencrantz and Guildenstern are Dead, A Streetcar Named Desire, Ragtime, Waiting for Godot and The Weir. His world premiere of According to Tip transferred to Boston's theatre district last fall. His New Rep production of Bill W. and Dr. Bob enjoyed an extended run off-Broadway in 2006.
Returning to the Rep stage are Alex Moggridge (Brendan), Andy Murray (Finbar), Mark Anderson Phillips (Jim) and Robert Sicular (Jack).
Debuting at San Jose Rep is Zillah Glory (Valerie).
A team of talented and creative designers collaborated on this production of The Weir. Annie Smart (Scenic and Costume Designer) returns to San Jose Rep, having worked on the 2007 production of Long Day's Journey Into Night. Dawn Chiang (Lighting Designer) returns to San Jose Rep having previously worked on its productions of Dr. Jekyll and Mr. Hyde, Two Gentlemen of Verona and The Matchmaker. The sound is designed by Rick Lombardo.
Watch for an upcoming episode of StarkSilverCreek Presents featuring the cast and director Rick Lombardo… coming soon.