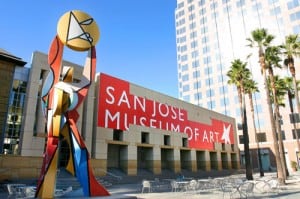 The San Jose Museum of Art will present the exhibition Real and HyperReal from January 30 through August 1, 2010. Drawn exclusively from SJMA's permanent collection, the exhibition will contrast traditional academic realism with new approaches that redefine reality. The approximately 40 works on view will range from illusionistic paintings by artists such as Sandow Birk, Llyn Foulkes, Tino Rodriguez, and Richard Shaw to monumental new-media installations by Mark Hansen and Ben Rubin and by Catherine Wagner. Real and HyperReal showcases many favorites from the SJMA collection that have not been on recent view, including works by Paul Wonner, John Register, and Michael C. McMillen. SJMA will also exhibit for the first time selections from its holdings of hundreds of preparatory sketches for James Doolin's seminal work, Shopping Mall (1973-77).
"For centuries, people have admired artists' magical ability to depict reality," said Susan Krane, Oshman executive director of the San Jose Museum of Art and curator of the exhibition (with Kristen Evangelista, associate curator). "This exhibition questions what realism means in the twenty-first century, when our world has taken on a virtual as well as a physical dimension. The expansive realities of the digital information age lead us to a sort of 'hyper-realism' – reality of a scale and scope that goes far beyond our powers of direct observation. By beginning with the popular platform of illusionistic realism, the exhibition compares and contrasts the 21st-century explorations of new-media artists."
Real and HyperReal offers a fresh context for the contemporary realistic paintings that are an unusual strength of the museum's collection. Many of the works featured are by California artists who combine an ironic, post-modern point of view with compelling technical skill. For example, A Peaceable Kingdom (1988) by Bay Area painter Paul Wonner (1920-1988), depicts the artist's pets—dog, cats, rabbit, and birds—among flowers and decorative objects, all painted in meticulous detail. Likewise, in his mixed-media work The Third Eye (2000), Michael C. McMillen (b. 1946) showcases the trompe l'oeil ("fool the eye") abilities that he developed as a prop artist on such films as Blade Runner. Viewers peer through a locked wooden door into a miniature diorama that depicts a typical head shop of the 1960s in precise, authentic detail.
SJMA's extensive collection of preparatory sketches for James Doolin's Shopping Mall (1973-77), has never before been exhibited. They provide insight into Doolin's countless hours of research and study for the extraordinarily detailed painting and its aerial viewpoint. Doolin (1932-2002) spent four years observing, drawing, and painting studies of a busy intersection in Santa Monica from the ground, from neighboring rooftops, and from a helicopter. Approximately twenty studies, along with the finished canvas, will be included.
Several of the paintings in the exhibition recombine glimpses of reality into complete fictions. The interior seen in Desert Restaurant (1986) by John Register (1939-1996) is modeled after a diner in Passaic, NJ, but Register replaced the views through the windows with a desert landscape of sand and sagebrush to contrast the comfortable interior with an unforgiving environment. Sandow Birk transforms familiar American landmarks and corporate icons into apocalyptic visions in three works from his epic cycle of illustrations for Dante's Divine Comedy: Inferno (2003), Purgatorio (2003), and Paradiso (2004).
Also on view are two monumental new-media installations that demonstrate the artists' very different takes of reality, using accumulations of information rather than literal observation. Catherine Wagner (b. 1953)—working with a grant from SJMA and in concert with the magnetic resonance imaging (MRI) lab at Stanford University, Palo Alto—created Pomegranate Wall (2000). This glowing forty-foot long curved wall holds a series of exquisite MRI images of a pomegranate, a common element in historical still-lifes and an ancient symbol of righteousness and fruitfulness.
Rubin and Hansen's The Listening Post (2002-06) returns home to SJMA after a two-year European tour. In this mesmerizing work, the artists give visual form to the real-time globalism and simultaneity of online chatter. The installation includes more than 200 LED screens and eight audio speakers. The artists crafted a complex algorithm to pull fragments of text from thousands of internet chat rooms, boards, and forums in real time. A voice synthesizer reads the texts aloud as the screens simultaneously display the messages in an ever-changing thematic groupings and patterns.
Real and HyperReal also includes works by Chester Arnold (b. 1952), along with his sketchbook of preparatory studies; Bruce Cohen (b. 1953); Llyn Foulkes (b. 1934); Lawrence Gipe (b. 1962); David Ligare (b. 1945); and Richard Shaw (b. 1941).
In connection with Real and HyperReal, the San Jose Museum of Art is collaborating with Poetry Center San Jose and Santa Clara County poet laureate Nils Peterson to invite area poets to write poems in response to the works in the exhibition, culminating in a public reading during National Poetry Month on Saturday, April 10, at 1:00 p.m.