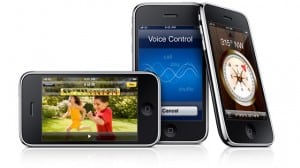 It's been a little over two weeks since I had to put my faithful BlackBerry to rest after three years of service. The cute little trackball that wheeled around to all my applications stopped working and operations involving compressed air and other cleaning attempts did not revive it.
I had thought about replacing it with another BlackBerry. There is something practical and "to-the-point" about my BB and the rest of its species that I find comforting from the first time I check email in the morning to the final sign off in the evening. I had moved to the BB from a Treo and it only took 30 minutes for me to understand why some call the BB a crackberry. The ability to pipe all inboxes into one stream and the speed at which I could fire off emails was exhilarating.
After some convincing from others though, I decided instead to join the ranks of those that have iPhones and get myself a little bit of eye candy. Yes, I crumbled under peer pressure.

Am I wrong to feel a little pretentious with my iPhone and its slick UI compared to my RIP BB? It's taken me about 2 weeks to start feeling some attachment to the iPhone. Perhaps it is a tingling of guilt for my trusty old BB…a needed mourning after a long period of service, no?
One of the biggest hurdles is the touch keyboard. People at airports used to marvel at how quickly my fingers would fly on my BB's keyboard. No more, I am back to learning to hit the iPhone screen at the proper angle. Willing my thumb to be a little skinnier so it wouldn't hit the delete key when I reach for the "m" key.
I am getting faster.
"Confessions of an iPhone Chick" is my chronicle of life after BlackBerry. Now it's me with my iPhone versus Clint with his Droid. Will I ever return to the BlackBerry, my first love?
P.S. I have to say the AT&T vs Verizon also factors into this. Trying to check into FourSquare at Club One Fitness is sometimes a pain on AT&T's network.