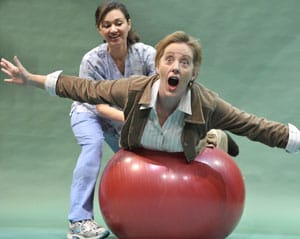 Aurora Theatre Company presents the World Premiere of lauded Chicago playwright Joel Drake Johnson's THE FIRST GRADE. Exploring with great humor and passion the price one pays for being a totally engaged member of society, THE FIRST GRADE follows the sometimes comic, sometimes frightening journey of a woman whose attempts to save her physical therapist from harm leads her into a chaos that includes a class of first graders, her depressed daughter, and an ex-husband with whom she still shares a home. Aurora Theatre Company Artistic Director Tom Ross helms this new play, featuring Julia Brothers and Warren David Keith, along with Rebecca Schweitzer, Paul Santiago, Tina Sanchez, and Adrian Anchondo.
THE FIRST GRADE is the first main stage production to develop from the Global Age Project (GAP), an Aurora Theatre Company
initiative that encourages playwrights and directors to explore life in the 21st century and beyond.