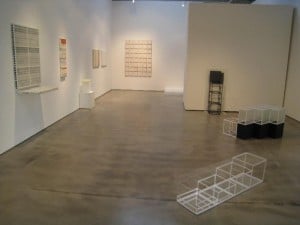 ICA will be holding an Artist Talk with Theodora Varnay Jones on January 14, 2010 from 7-9pm. presents an exciting and unique opportunity to see and experience how this accomplished artist's work has evolved during the last decade. Varnay Jones will also discuss her residency at the ICA Print Center.
Manifold, a solo exhibition by postminimalist sculptor and installation artist Theodora Varnay Jones is on view in the ICA's Focus Gallery through February 20th. The installation provides visitors with a unique opportunity to see the breadth, depth and evolution of Varnay Jones' work over the past decade. Comprised of two-and three-dimensional works including drawings, constructed works and re-conceptualized ready-made pieces, the exhibition reflects the artist's systematic exploration of repetition, form and material.
By using opposing media such as paper and metal, fiberglass and beeswax, clay and gauze, Varnay Jones creates objects infused with a palpable tension between the conflicting nature of the materials and the equilibrium of their compositions. The resulting forms are open-ended and ambiguous, while also evoking concepts related to invisibility, emptiness, memory, perception, and time. The artist's careful layering of translucent and transparent materials creates a shifting dynamic between what is revealed and what is concealed between the multiple layers of each piece. The objects often reveal subtle hints at their hand-made quality despite the precision of their construction.
Hungarian-born Varnay Jones has lived in San Francisco for more than 35 years. She received her BFA and MFA from the Academy of Fine Arts in Budapest. Her works have been exhibited extensively in the US as well as in Europe and Asia. She has also received numerous awards and grants.