Having leftovers is one of the joys and challenges from hosting a holiday party. A while back, I discussed how to make open-faced turkey sandwiches which basically took all the ingredients left over from a holiday feast and turned it into a delectable meal on its own. For those that want to relive the holiday feast, it's a great option.
But what if you had enough turkey dinner and want some variety in your fare? "I can't believe it's holiday leftovers" Turkey Hummus Panini is just the yummy solution to your holiday woes.
Although traditionally panini are of Italian origin, its rise in popularity has made it a basis for some international twists. This particular recipe calls for a couple of ingredients not found in traditional Italian fare.
"I can't believe it's holiday leftovers" Turkey Hummus Panini

2 large slices of fresh naan bread (each slice will be cut in half to make one sandwich so adjust number of slices based on the size of your naan bread
1/2 cup of hummus
1/2 cup of tzatziki sauce
16 oz. of turkey (you can play around with the amount depending on how much meat you like in your sandwiches)
1/4 cup of raisins (make sure they are fresh and plump, if they are not, soak them in some water for a few minutes to plump them up)
1 teaspoons of curry powder
Salad greens (throw in lettuce, mache, arugula, alfalfa sprouts, thinly-sliced cucumber…whatever your heart's content or whatever is in your fridge
2 tablespoons of extra virgin olive oil
a pinch of salt
a pinch of pepper
1. Mix together tzatziki sauce and hummus in a medium size bowl.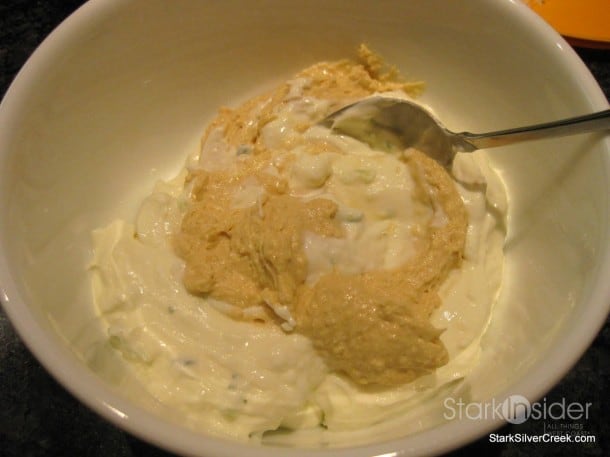 2. Stir in raisins.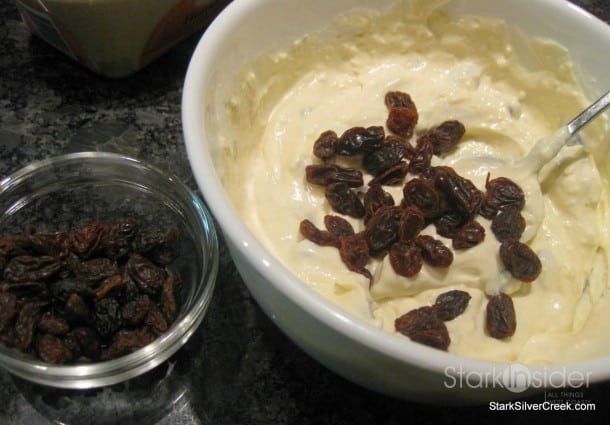 3. Spread a thin layer of the mixture on 1/2 a slice of naan bread. The size of the piece of naan bread is up to you. Just keep in mind that it has to fit into your cast iron pan and you have to be able to flip it.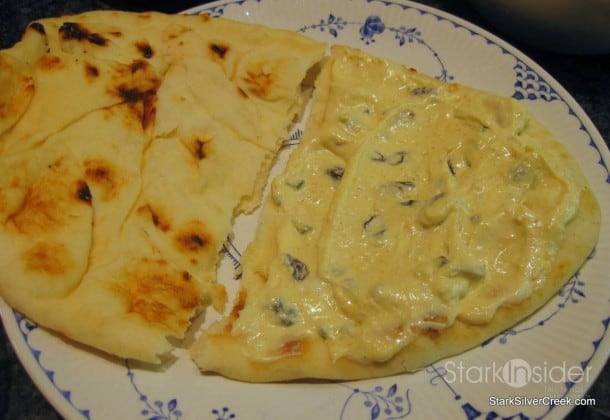 4. Add a layer of turkey to the panini. Make sure to slice the large pieces of turkey into smaller pieces. You can use dark or white meat…purely a matter of preference. At this point you will want to preheat the cast iron pan at low-medium heat.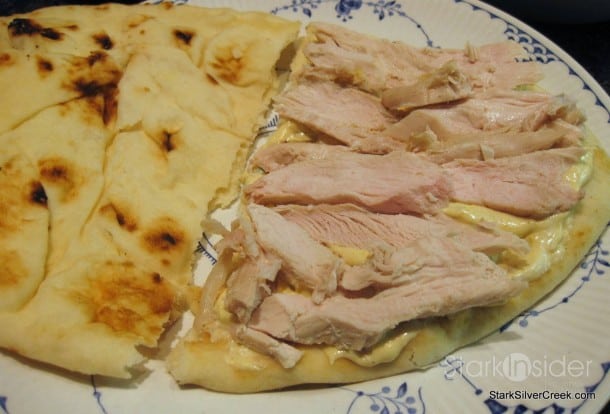 5. Add another layer of the tzatziki hummus sauce. Place salad green on top. If you want, add some stuffing on top as well! I had some caramelized pearl onions to add to the sandwich. Spread a thin layer of the tzatziki hummus sauce on the another piece of naan bread and place on top.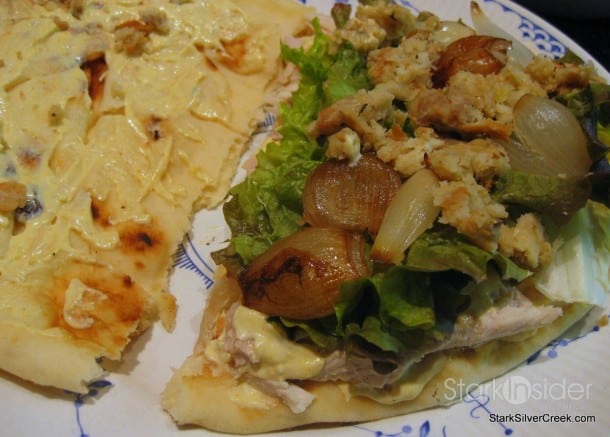 6. Mix together in a small bowl the olive oil, salt and pepper. Use a brush and brush the olive oil over the top of the sandwich.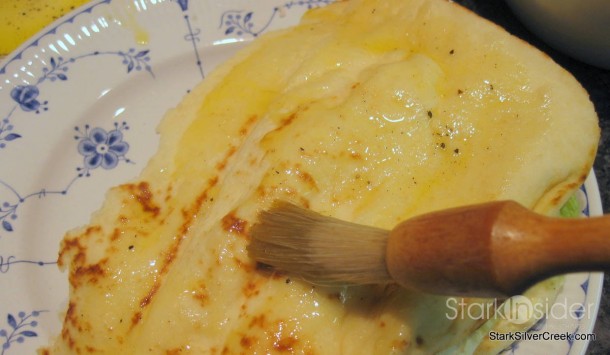 7. Place the panini gently on the pan with the lightly oiled side down on the pan. You will need to play with the intensity of the heat so that the turkey and ingredients warm up and the outside of the panini gets golden brown without burning. This should take about 3 minutes on each side. Brush the other side with olive oil as well and then use a spatula to flip over. (Since this was over the holidays in Ottawa, Canada, I didn't have my Le Cruset Panini Press so I had improvise by using a spatula to flip the panini over and it worked out quite well.)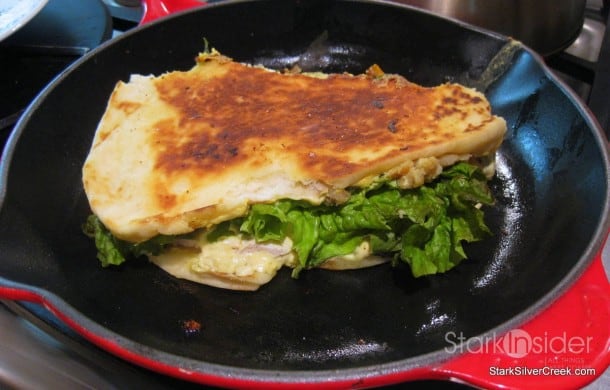 8. Once the panini is done, transfer over to a plate and slice in half. Add a sprig of parsley or some other decorative green and serve!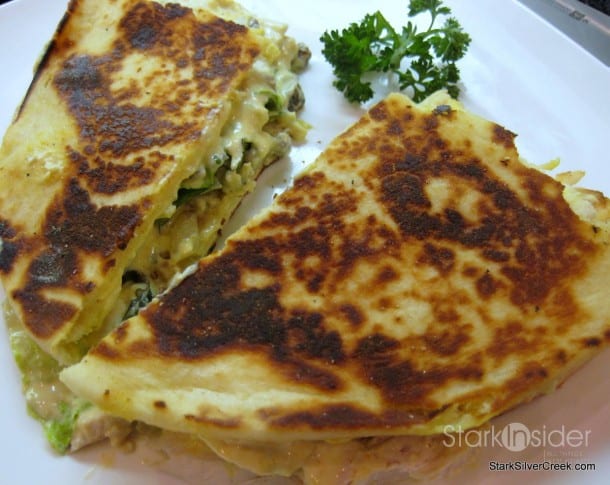 This recipe will make two generous portioned paninis. Both of which were polished off after some initial protests that they were too big. All that you'll hear murmured after plates are emptied is, "I can't believe it's holiday leftovers…"