Guest post by Jane Lurie.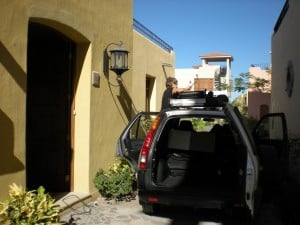 We were expecting to drive 5 hours when we left San Ignacio heading for Loreto. Instead we were here in 3 hr 45 minutes.
We passed by Santa Rosalia and Mulege, two towns that had been severely affected by the latest hurricane, but we didn't stop. We were ready to be home. It had been 6 months since we last were here.
We were so excited about unpacking and settling in and seeing our old friends and experiencing the joy of our friends who were just moving into their newly completed homes.
Here is some video of that drive and our arrival at our Casa de Suenos: