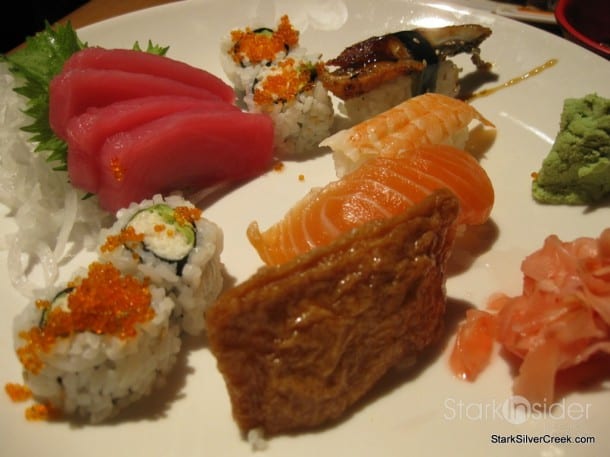 I stumbled upon Sushi Rock in San Francisco with an empty stomach and little time before we had to catch a play at a local theater. To be exact, I had about 30 minutes for dinner before we had to barrel out of the restaurant.
The restaurant is on the second level requiring those interested in peering into the restaurant to commit to a climb up a flight of stairs. Upon entering Sushi Rock, I found the interior to be consistent with what I would imagine a Japanese sushi restaurant to look like with the name "Sushi Rock". There was rock music played in the background, the walls were painted a warm mustard and the decor was simple straight-lined, maple-colored wooden tables and chairs that gave off a funky vibe.
Clint ordered a Rock Box Special ($11.95) and I selected the sushi and sashimi combination, "Rock Special" ($14.95). The description of the sushi rolls looked very appetizing, but given our time and the amount of rich foods we had been consuming, we thought it was best to keep it simple this time around.
The meals came quickly and the staff was very courteous and accommodating to our tight schedule. The raw fish selections delivered good value. Surprisingly, one of my favorite dishes from what we selected from the menu was the sea bass teriyaki. It was tender and addictive. I found myself reaching over to dip into Clint's bento box a number of times. The oyster katsu was just okay. I found it was heavily battered and obfuscated the delicate flavors and texture of the oysters.
A nice touch was that just as we paid our bill and started rushing out the restaurant, one of the waitresses handed me two scoops of ice cream (green tea and orange) in two small takeout plastic cups. We could eat our ice cream as we zipped through the streets of San Francisco, once again in a mad rush to get to a play on time.
Sushi Rock Japanese Cuisine (near Chinatown)

614 Pine Street
San Francisco, CA 94108
Phone: (415) 399-0882

sushirocksf.net