Guest post by Jane Lurie.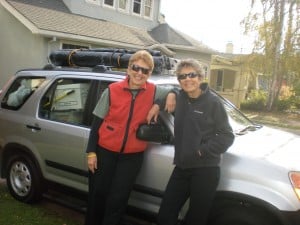 We have finally made it back to Loreto after a 6 month absence. We drove down with our Honda CRV packed like a stuff bag, with two folding chairs, a roll of screening material, a rug and a roll of tulle on the roof….not quite the Clampetts (AKA the Jacksons) but no room for that thimble that I had wanted to pack.
A storm had wreaked havoc on I5 and the Grapevine was closed a few days before we were scheduled to drive down. So we adjusted our plans to avoid 5, and spent our first night on the road hanging out with our friends, Bonnie and Don in Santa Barbara.
We left Santa Barbara at 7:30am heading for the Tecate border crossing. The crossing at about 1:30PM was uneventful because we have FM3 visas, we were the only ones crossing at that time and we got a green light.
We were looking forward to driving Mexico 3 through wine country. What we found was road construction leaving us on a dirt road for most of the trip. The drive will be beautiful when it is done. For us, it just added at least an hour to our drive to Ensenada. We spent that night at the Estero Beach Hotel/Resort at the south end of Ensenada. We had a lovely room, at a very reasonable rate, facing the ocean and arrived in time to see sunset on the water from our balcony. Here are some photos: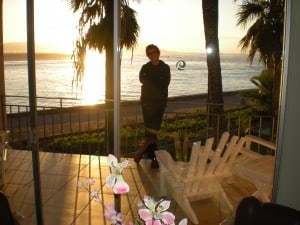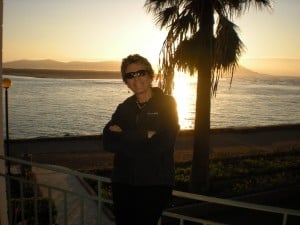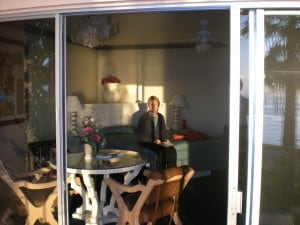 We left Estero Beach at 6:15AM heading to San Ignacio and a yurt at Ignacio Springs Bed and Breakfast. It was going to be a long haul. We would have to set our watches ahead an hour when we entered Baja California Sur and we really wanted to get there before dark.
Details to come in my next post.