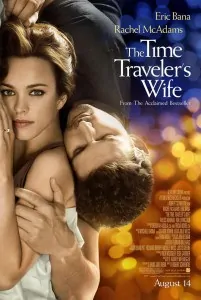 'The Time Traveller's Wife' is another movie amongst several that deals with the theme of true love transcending time. Others in this category include 'Benjamin Button' and the latest vampire craze.
As Hollywood tries to grapple with the true essence of love in a world where technology is making more things possible, bending time is still mysterious and romantic.
I saw this movie while sitting next to a girl flying to Australia to meet a 'male friend' who visited her last summer and whom she met while studying in Brisbane. I had to voice the obvious which was this 'male friend' is probably more than a 'friend'; no one travels half way across the world just to meet up with a friend. It is the 'When Harry Met Sally' type of logical deduction. She was very excited about the movie selection on the Quantas flight. Having read the novel, 'The Time Traveller's Wife', she wanted to see the movie, but would have to wait since her 'male friend' was also interested in seeing it with her.
I think this case is closed…a guy who wants to sit through a chick flick?
The movie profiles the life of Henry who as the title of the movie suggests, travels through time. This sounds all exciting except for one caveat, he can't control when he travels through time. Throughout his life he pops in and out of Annette's life, the woman who becomes his wife. The time line and plot of the movie jumps around as well pushing my mind to put all the pieces of the puzzle together again in one contiguous storyline.
A large focus of this movie is on the impact of Henry's genetic condition on his wife and his friends. The plot is quite creative as it deals with the logical conclusion of his genetic condition on events in life that we often take for granted.
I have not read the book, but I would imagine the novel is better than the movie as the most interesting parts of this tale are the emotions and thoughts of each of the characters, something much better portrayed in novels that are not bounded by what the eyes can see.
Henry's character also lacked depth and his time traveling antics dominated and took away from the emotional connection I needed to really empathize with his plight. Benjamin Button felt real, Henry made me feel a little like I was watching the show of a fantastical escape artist.