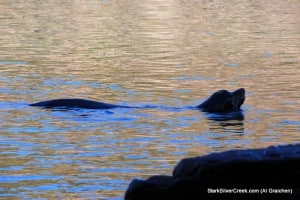 Many of the "kids" in for Christmas were seen off at the Loreto airport yesterday afternoon. As both Vista del Mar and Del Borracho were closed, the Porto Bella restaurant at the airport looked like an average day in LAX or SFO – full of people. Pedro was very pleased to see so many people enjoying his restaurant.
The heavy cloud cover that has been with us for the last few days was gone on Wednesday morning. The sun warmed the air early and the clouds were history. Schools of dolphins had been spotted the other day so we headed to the beach to see if any were still in the area. The water was as smooth as glass but the playful critters were not to be found.
Walking over the golf cart bridge toward the southern estuary, a large splash caught our eye.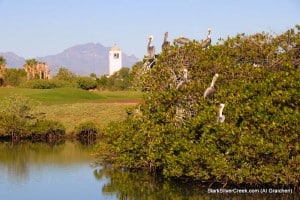 A short search found the cause. A large sea lion was cruising around the entrance to the estuary. At one point he came within 20 feet of the shore. I've seen them off the coast before, but this was the first I've seen one venture into the estuary. There are many good sized fish in there now so perhaps a semi-captive food supply was the attraction.
The golf course continues to be maintained and is in fair shape from my viewpoint (aka – non golfer but lives on two courses). The fairways and greens appear to be "maintained" by cutting the grass much too short. As such there are a number of places where there is still bare ground which I saw on my last trip down in October.
The "rough" is just that (finally). Instead of a "rough" that was as good as many US fairways, there is actually "long" grass growing. Granted it's still a long way from what the PGA calls a "rough" but it is actually an improvement where it exists. I'm not certain from a golfer's perspective but it would seem to be preferable to the "desert" land that is part of some fairways.
The pelicans, herons and cormorants continue to populate the mangrove islands in the estuaries. Now that the water provides an ample food supply for the birds, they seem to be quite content to hang out and feed whenever they please.
The palapas along the beach in front of the Inn are still in disrepair from damage sustained by hurricane Jimena in August. Hopefully in the new year Fonatur or a buyer will get them repaired or removed.