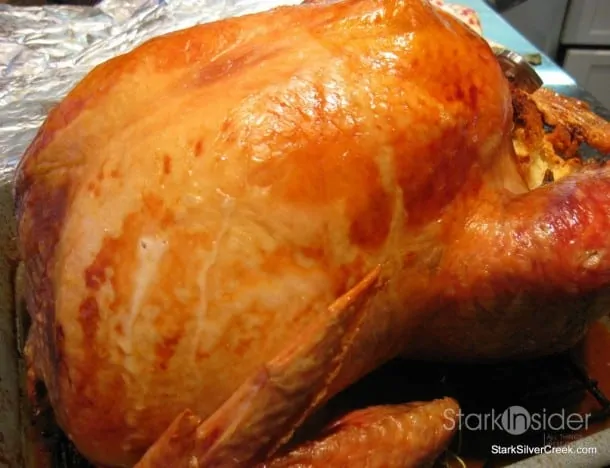 There is a lot of pressure when you are the star of the dinner table. When it is a traditional Christmas dinner, the pressure of this coveted title goes to the friendly neighborhood turkey. (Okay, if you've ever seen a gang of turkeys walking down your street, you would think they were less than friendly…scary looking creatures in fact.)
Our 18 pound turkey came out of the oven roasted perfectly golden brown. It was then Clint's job to haul it from the roasting pan onto a carving plate. He dressed for the occasion in his Mrs. Doubtfire apron ensemble.
The drippings from the turkey were used to make gravy and the men took on the task of carving the turkey.
Overall, it was a successful operation. I helped out by being one of the official taste testers. I was quite thorough testing out the turkey, the plum pudding and the array of little cookies on the dessert platter.
Oh yes, and the mashed potatoes as well!
The dinner was paired with a Malivoire Chardonnay from a small winery in the Niagara region in Ontario, a Liberty School Cabernet Sauvignon 2006 from the Paso Robles region in California and a Conchay y Toro Cabernet Sauvignon 2007 from Maule Valley in Chile.
I still have great memories of the grand Christmas turkey dinner. As the saying goes, "In a turkey and wine dinner, the grape vines are involved, the turkey is committed."