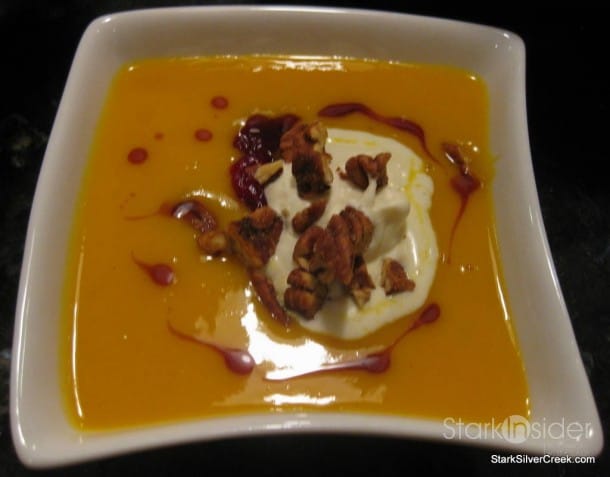 We stopped by Carl and Susan O— a few evenings ago to catch up on holiday preparations just before taking off to Ottawa, Canada. Susan, as usual prepared a wonderful meal for the occasion (to tell you the truth every meal where Susan is the chef is an occasion in it's own right).
To start, I tasted a wonderful pumpkin and butternut soup that was topped of with a dollop of real whipped cream, pumpkin seed oil and lightly candied roasted pecans. The combination of the topping ingredients not only added visual interest but also the pumpkin seed oil enhanced  intensity of flavors.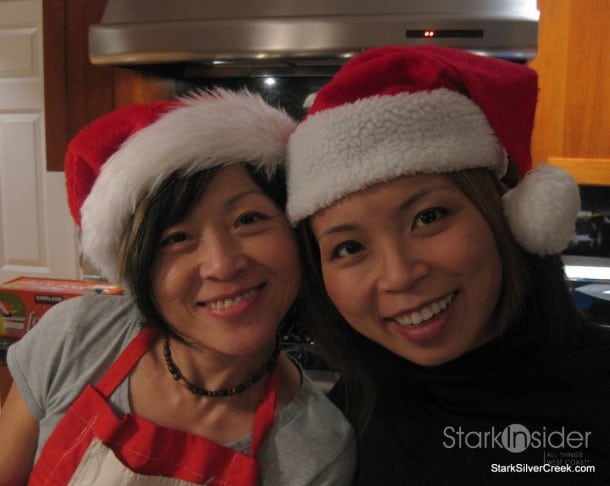 For the main course, a salmon encrusted in a mixture include Panko flakes over kale and coconut infused rice was served. The crust on the salmon was perfect and the salmon had a wonderful smokey sweet flavor from the marinade.
To finish it off, a truly decadent dessert of a coconut bar from a secret recipe given to Susan from a local coffee shop was placed on top of a chopped Haagen Daz chocolate vanilla ice cream bar. It was a impromptu creation borne from a stroke of genius. As you can imagine, it was delicious.
This meal was paired with a pinot and with dessert a dry port.