This is the first in a series of photo galleries of my holiday eating. It was a lot of hard work dear reader, but I was willing to sacrifice myself to this endeavor so that I would be fully qualified to comment on what worked and what didn't.
First off, the snowman cheese creation. It took some simple cheese spread and crackers and turned it into the visual belle of the potluck table. Points for this and the creativity of the little pickle hat. Unfortunately, no one wanted to stab into Mr. Frosty the Snowman no matter how delicious he looked.
Next up, the classic smoked salmon with sour cream and capers. Yum! The key things that make this dish a success (besides having yummy smoked salmon) is to make sure the pieces of salmon are cut small enough so they can manage-ably be placed on a small cracker. Most smoked salmon come in larger pieces so that the slices can generously cover a bagel. If you don't slice it into smaller pieces, guests will be forever trying to pull the salmon apart until your appetizer starts to look not so appetizing!
The Hoisin Chicken Wings (skinless, boneless) were a nice healthy meal-type appetizer. A specialty of Heather Stark, this dish is simple to make involving tossing the chicken in hoisin sauce and baking it in the oven. If you bring a dish like this over to a pot luck, make sure you bring some sturdy toothpicks or skewers to pick up the little suckers.
A cheese plate is always a welcomed addition to any potluck table. Something tart or sweet like fig preserve jam is a nice touch to balance some of the saltiness and textures of the cheeses. For hard cheese selections, if you don't have sharp cheese knives or a lot of children at the pot luck, you may want to consider slicing it ahead of time so that guests can easily pick up a piece and place on a cracker without endangering themselves or the plate the cheese is on. If you have a couple of less common place cheeses, markers with the cheese name on them is helpful as well. If you don't have the fancy ones from a gourmet cook's store, simple card stock paper taped to a toothpick does the job.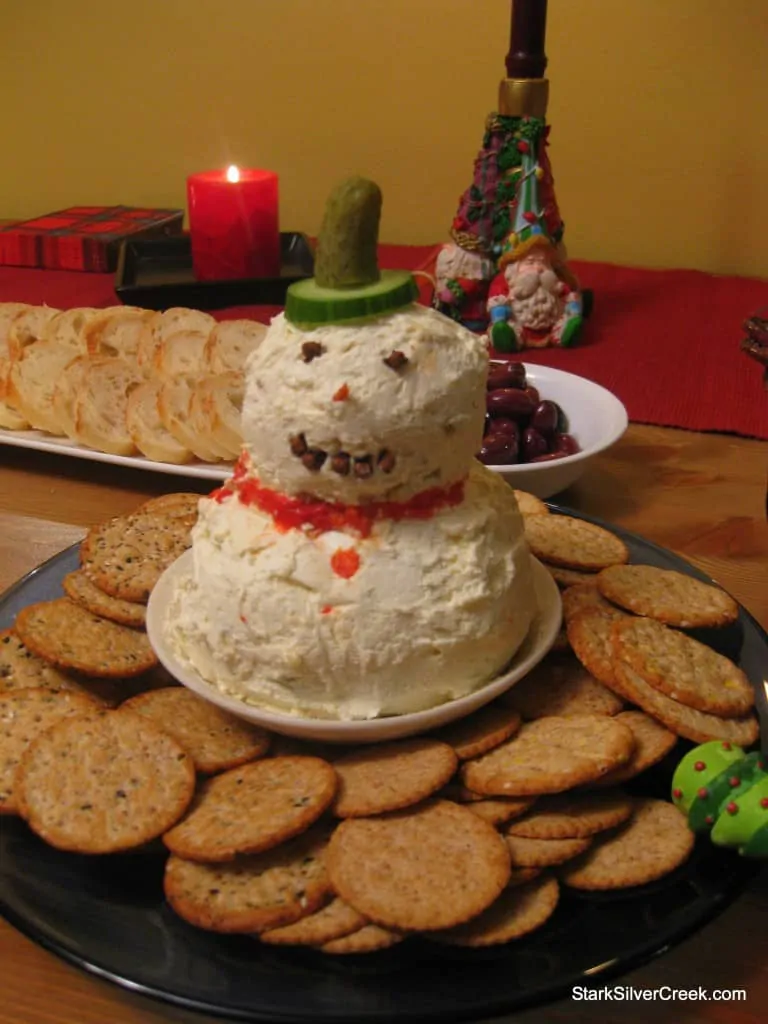 A surprise hit of the evening was a spread of crumbled goat cheese, sprinkled with chopped red onion, capers and prunes and finally drizzled with olive oil, red wine vinegar, honey. The mixture is spread across a slice of french baguette. It was scrumptious. I think what made the difference was fresh bread that was just picked up from the bakery on the way to the pot luck. It was also thinly sliced so that the bread did not overpower the texture of the spread.
Lamb balls added an interesting twist to the traditional meat balls. Dipped in tzatziki sauce, these were wonderful. They did taste better warm than cold which brings me to the next dish which was a traditional meat ball dish.
These were the traditional meat balls which were nice and small so the sauce could easily cover them and make them even more flavorful. It came in a slow cooker so the meat balls were hot no matter if you had one in the beginning or near the end of the party. I loved these and think no potluck is truly complete without this dish.
To balance all these meat dishes, another classic at potlucks is the vegetable platter. This one had cucumbers, carrots, tomatoes and mushrooms which I enjoy raw. Red peppers I am less fond of raw. The onion dip had good flavor. I recommend a dip that has some salty notes to it so that it enhances the natural sweetness from vegetables.
Speaking of dips, this one was a cheese dip. If you decide to bring a bean or cheese dip, think about the side of the bowl and make sure when your dip fills the bowl, the dip is deep enough that someone can get a generous portion of the dip on their chip, bread or cracker. Also, if it is not apparent what the dip contains, a sign with description always helps to promote the dish.
Another idea for a potluck is to take a meal size dish and cut it up into smaller finger food size. In this case, these ham and turkey wraps were sliced like sushi rolls to become smaller bite-size portions. I am not crazy about ham or turkey wraps, but this is a good idea to apply to other dishes…for example, dessert!
The desserts consisted of classic shortbread cookies and ginger snaps as well as less traditional fare of chocolate peanut butter covered marshmallows. I was surprised that my favorite dessert was the latter. However, what really keeps conversation going at a potluck by the time dessert is served is hot, well-brewed coffee.
It was a wonderful evening to spend time with family and friends amongst such an eclectic selection of dishes, all prepared with love and holiday cheer. Pam T— was a gracious hostess and even coordinated a game of "Giggly Swap."
Clint and I did fairly well. I was able to steal someone else's gift of a milk frother. Clint, in the final moments was able to switch his set of poinsettia dish towers for a vegetable dip chiller…perfect for the next pot luck party!