New York-times best selling author Ayelet Waldman sits down with Loni to talk about being a "bad mother," men, her career as a former public defender and how it influences her writing.
Stark Insider Presents – Ayelet Waldman
Hear about the surprising reaction—even backlash from some—to her philosophies that even caused a restaurant ruckus!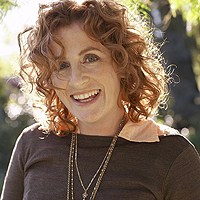 She is married to author Michael Chabon, who went on to win the Pulitzer Prize in 2001. Entertainment Weekly declared the couple "a famous — and famously in love — writing pair, like Nick and Nora Charles with word processors and not so much booze."
On Monday, Berkeley Repertory Theatre will host a conversation with the literary powerhouse of Michael Chabon and Ayelet Waldman, hosted by San Francisco Chronicle's Jon Carroll to benefit the academic and financial assistance programs at Park Day School in Oakland.
Ayelet Waldman is the author of The New York Times bestseller, Bad Mother: A Chronicle of Maternal Crimes, Minor Calamities and Occasional Moments of Grace. Her other books include Daughter's Keeper, the Mommy-Track Mysteries, and Love and Other Impossible Pursuits. A film based on this novel starring Natalie Portman recently premiered at the Toronto Film Festival.
Waldman's personal essays have been published in a wide variety of newspapers and magazines, including The New York Times, the Guardian, the San Francisco Chronicle, Elle Magazine, Vogue, Allure, Cookie, Child, Parenting, Real Simple, Health, and Salon.com. Her radio commentaries have appeared on "All Things Considered" and "The California Report."