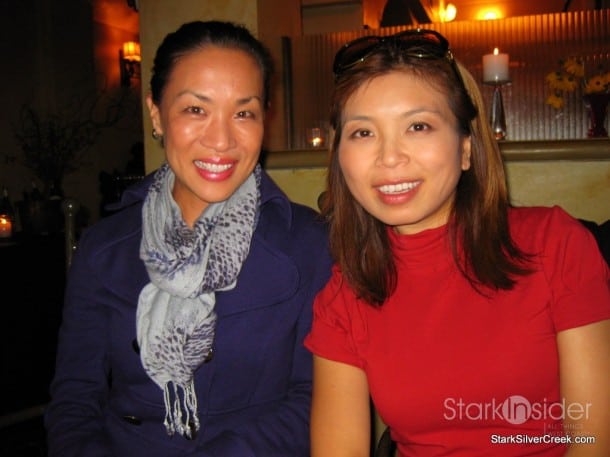 The wine swirled in my mouth.  A carousel of whites and reds.  Of particular note is an Emeritus, Pinot Noir 2006 whose notes of dark fruit and sandalwood beckoned a sip and the well-balanced tannins coaxed a further taste.
Around the intimate horseshoe wine bar, an eclectic group had gathered. Conversation flowed, catalyzed by memories of vineyards captured in tinted glass.
This was simply an entrée to a meeting with the Italian edible creations of Executive Chef Renzo Veronese at the Kenwood Inn and Spa. After several glasses of wine were tasted, I moved to the dinner table, past a warm welcoming fireplace.
First up on stage was the Fichi con Formaggio e Prosciutto which paired the sweet and delicate texture of figs with the saltiness of imported air cured ham and Laura Chenel goat cheese. It was a classic combination that was sublimely elevated by paper thin ham that had enough salt draw out flavors, but not overpower.
Zuppa di Sedano was next crafted from puree of celery root soup with truffle essence. The intensity and richness of flavor made this a precious dish to be savored slowly.
One of my favorite dishes of the evening was the Pappardelle con Costata di Manzo, a comfort dish of housemade wide pasta ribbons married with slow braised short ribs. On a cool Sonoma day at Kenwood Inn, curling up with a glass of HK Generations Pinot Noir 2007 and delicious morsels of this dish balanced on my fork was spine-tingling cozy. I loved the texture of the pasta which is made on a specially designed pasta maker by David Di Loreto himself.
And what would an Italian meal be without Scaloppini di Vitello? The thin medallions of veal was sautéed with wild porcini and shiitake mushrooms. After reading 'The Omnivore's Dilemma', images of scouting around forests for wild porcini heightened my enjoyment of this dish.
Finally, to finished off the evening dessert was a Torta di Cioccolato e Vino, a signature creation of HK Generation Pinot nore and bittersweet chocolate on a macadamia nut crust. Truly decadent.
It was at the conclusion of a simply wonderful Tuscan dream for the taste buds that the man behind the curtains, Executive Chef Renzo Veronese greeted us. They say that the way to a man's heart is through his stomach. That evening, I think the saying applies to women as well.