by Charles Dickens
Adapted by Carey Perloff and Paul Walsh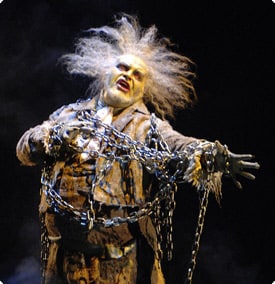 Music by Karl Lundeberg
Choreography by Val Caniparoli
Directed by Domenique Lozano
Based on the original direction by Carey Perloff
The Bay Area's favorite holiday tradition returns to A.C.T. with a sparkling, music-infused A Christmas Carol. Featuring mean ol' Scrooge, adorable Tiny Tim, those spooky Christmas ghosts, and a multigenerational cast of dozens, A Christmas Carol is a celebration of goodwill that you'll never forget. Bring your family, bring your friends, and check your "humbugs" at the door!
A.C.T. Ushers in the Holidays with A Christmas Carol
Monday, October 26, 2009

With advance sales 45% over last season, early purchasing is recommended. James Carpenter is joined by A.C.T. core acting company members along with a multigenerational cast of actors from A.C.T.'s Master of Fine Arts Program and Young Conservatory.

SAN FRANCISCO, CA, October 26, 2009—American Conservatory Theater presents the Charles Dickens classic A Christmas Carol, adapted by Carey Perloff and Paul Walsh and directed by acclaimed Bay Area director and actor Domenique Lozano. A.C.T.'s annual production of this beloved family-friendly gem has been called "a Carolbuilt to banish 'bah humbugs' for years to come" (The Oakland Tribune) and "a holiday treat for the entire family" (KGO Radio). A sparkling, music-infused celebration of goodwill, A.C.T.'s A Christmas Carol stars Bay Area favorite James Carpenter as Scrooge for his fourth year in this iconic role. A.C.T. core acting company members Gregory Wallace andRené Augesen make their A Christmas Carol debuts as Bob and Anne Cratchit and are joined by fellow company member Jack Willis, who returns as the Ghost of Jacob Marley, Scrooge's nightmarish late-night visitor. A Christmas Carol runs December 3–27, 2009, and press night is Tuesday, December 8, at 7 p.m. As advance sales for this season's production of A Christmas Carol are 45% ahead of last year, early ticket purchasing is recommended. VIP seating is available for all performances of A Christmas Carol. Holders of VIP tickets enjoy the best seats in the house, a limited-edition A Christmas Carol souvenir book, access to the Carol Lounge during intermission, and intermission treats.

"Dramatizations of A Christmas Carol have become an important American family ritual at holiday time, regardless of individual religious background or faith. In the last two seasons, parents and grandparents have told us that the Carol experience is more important than ever," says A.C.T. Artistic Director Carey Perloff. "With everyone tightening their belts at this time, we are so proud that A.C.T. can continue to be a part of Bay Area families' holiday traditions." A.C.T. is committed to making this family-oriented classic affordable for the Bay Area with family four-packs and special group discounts. With family four-packs, a family of four can attend select performances of A Christmas Carol for the price of two tickets—as low as $32.

Originated in 2004, this version of A Christmas Carol, adapted by Paul Walsh and Carey Perloff, stays true to the heart of Dickens's timeless story of redemption and brings a playful sensibility to his rich language. Each of the four ghosts that haunt the miser Ebenezer Scrooge and lead him to his transformation are theatrically staged: a children's favorite, Scrooge's former business partner, Jacob Marley (Willis), clad in chains, climbs out of Scrooge's bed; the Ghost of Christmas Present (Bay Area favorite BW Gonzalez) is a Bacchic spirit of fecundity and abundance, robed in striated green velvet; the Ghost of Christmas Past (member of the A.C.T. M.F.A. Program class of 2010 David Jacobs, in his A.C.T. mainstage debut) is a candle, "lit from within, emanating radiance, who descends on a swing," says Perloff; and the Ghost of Christmas Future is a giant black ghost puppet that takes over the entire stage of the American Conservatory Theater. Dickens's lovely descriptions of the abundance of Christmas bounty are staged as "The Waltz of the Opulent Fruit," with six young actors taking on the roles of French plums, Turkish figs, and Spanish onions, to the delight of audiences. Perloff adds: "Dickens believed that triggering the imaginationis the key to triggering change in a person's heart. Scrooge's remarkable transformation is brought about by three ghosts. Ghosts! Dickens realized that if Scrooge's imagination could be stimulated, it would be possible for him to wake up on Christmas morning an entirely new man. What an incredible endorsement of the power of art."

Now in its 33rd year at A.C.T., A Christmas Carol is a cornerstone of the A.C.T. repertory and has become a holiday tradition for families from all around the Bay Area. Performed to date nearly 1,000 times to a collective audience of more than 800,000, A Christmas Carol has employed nearly 1,000 actors and 600 backstage staff. "I adore this play," says director Lozano. "It's a thrill to work on this story, which is about community, with a community of artists for which it is tailor-made."

A holiday event for audiences of all ages, A.C.T.'s A Christmas Carolfeatures a multigenerational cast of performers led by James Carpenter as Ebenezer Scrooge. Joining Carpenter are A.C.T. core acting company members Jack Willis as the Ghost of Jacob Marley, Scrooge's nightmarish late-night visitor, Gregory Wallace as Bob Cratchit, and René Augesen as his wife, Anne Cratchit. Acclaimed Bay Area actors Jarion Monroe and Sharon Lockwood return as the ever-festive Mr. and Mrs. Fezziwig, along with BW Gonzalez, who will be reprising her role as the Ghost of Christmas Present. Rounding out the cast are 22 young actors from the A.C.T. Young Conservatory and the entire third-year class of the A.C.T. Master of Fine Arts Program. The M.F.A. Program performers—many of whom traditionally receive their Actors' Equity cards as a result of their participation in A Christmas Carol—are Nick Childress, Jon Gentry, Caroline Hewitt, Sara Hogrefe,Sophia Holman, Omozé Idehenre, David Jacobs, Emily Kitchens,Mairin Lee, Lakisha May, Philip Mills, Kyle Schaefer, Alex Ubokudom, and Tobie L. Windham. This beautiful production features sets by Tony Award–winning designer John Arnone (The Who's Tommy and The Full Monty on Broadway) and period costumes by Beaver Bauer of Teatro ZinZanni. With original songs and score by composer Karl Lundebergand choreography by Val Caniparoli of San Francisco Ballet, A Christmas Carol also features lighting design by Nancy Schertler, sound design by Jake Rodriguez, and musical direction by Laura Burton.

A.C.T.'s A Christmas Carol is made possible by generous support from presenting sponsor AT&T and producing sponsor Pacific Gas & Electric Company. Additional support for A Christmas Carol is provided by Wells Fargo.

ARTIST BIOGRAPHIES:

Charles Dickens (Author) was born February 7, 1812, in Portsmouth, England. The eldest son of a large middle class family, he experienced real poverty when his father was imprisoned for outstanding debts, and 12-year-old Charles was forced to leave home and work in a London factory. The experience deeply affected the boy and served as creative inspiration for the writer, whose many novels naturalistically depict the difficult conditions of 19th-century British working class life. Dickens later went on to work as an office boy and a reporter, experiencing instant success as an author when The Pickwick Papers, a series of comic narratives written to accompany artistic engravings, was published in 1836. He followed The Pickwick Papers with the novelsOliver Twist (1839), Nicholas Nickleby (1839), Barnaby Rudge (1841),Martin Chuzzlewit (1844), A Christmas Carol (1843), and David Copperfield (1850). Featuring wild plot twists and lively depictions of London street life, his work, primarily published first in serial format, was easily adapted for the stage and appeared frequently at playhouses throughout England. In the 1850s Dickens suffered a period of unhappiness, brought on by the dissolution of his marriage to Catherine Hogarth, and his work began to tackle darker themes and more fully criticize industrial society. The novels of this period include Bleak House(1853), Hard Times (1854), Little Dorrit (1857), A Tale of Two Cities(1859), and, often considered his masterpiece, Great Expectations(1860). An exhausting series of reading tours late in life led to a decline in Dickens's health, and he died in 1870 working on the unfinished manuscript of The Mystery of Edwin Drood.

Carey Perloff (Co-adaptor and Original Director) is celebrating her 18th season as artistic director of A.C.T., where she most recently directed José Rivera's Boleros for the Disenchanted, the hit West Coast premiere of Tom Stoppard's Rock 'n' Roll, and John Ford's 'Tis Pity She's a Whore.Known for directing innovative productions of classics and championing new writing for the theater, Perloff has also directed for A.C.T. the world premieres of Philip Kan Gotanda's After the War (A.C.T. commission) and her own adaptation (with Paul Walsh) of A Christmas Carol; the American premieres of Tom Stoppard's The Invention of Love andIndian Ink and Harold Pinter's Celebration and The Room; A.C.T.-commissioned translations/adaptations of Hecuba, The Misanthrope,Enrico IV, Mary Stuart, Uncle Vanya, and A Mother (based on Maxim Gorky's Vassa Zheleznova); Harley Granville-Barker's The Voysey Inheritance (adapted by David Mamet); the world premiere of Leslie Ayvazian's Singer's Boy; and major revivals of Bertolt Brecht/Kurt Weill'sHappy End (including a critically acclaimed cast album recording), A Doll's House, Waiting for Godot, The Three Sisters, The Threepenny Opera, Old Times, The Rose Tattoo, Antigone, Creditors, Home, The Tempest, and Stoppard'sTravesties, The Real Thing, Night and Day, andArcadia. Perloff's work for A.C.T. also includes Marie Ndiaye's Hilda, the world premieres of Marc Blitzstein's No for an Answer and David Lang/Mac Wellman's The Difficulty of Crossing a Field, and the West Coast premiere of her own play The Colossus of Rhodes (Susan Smith Blackburn Award finalist). Her play Luminescence Dating premiered in New York at the Ensemble Studio Theatre, was coproduced by A.C.T. and Magic Theatre, and is published by Dramatists Play Service. Her play Waiting for the Flood has received workshops in A.C.T.'s First Look series and at New York Stage & Film and Roundabout Theater Company; her latest play, Higher, was developed at New York Stage & Film and as part of A.C.T.'s First Look series at Stanford University. Her one-act play The Morning After was a finalist for the Heideman Award at Actors Theatre of Louisville. Perloff has collaborated as a director on new plays by many notable contemporary writers, including Gotanda, Robert O'Hara, and Lucy Caldwell. She most recently directed a major production of Racine's Phèdre (translated by Timberlake Wertenbaker) for the Stratford Shakespeare Festival and is currently developing a new dance-theater piece, The Tosca Project, with choreographer Val Caniparoli for A.C.T. and a new Elektra for the Getty Center in Los Angeles.

Before joining A.C.T., Perloff was artistic director of Classic Stage Company in New York, where she directed the world premiere of Ezra Pound's Elektra, the American premiere of Pinter's Mountain Languageand The Birthday Party, and many classic works. Under Perloff's leadership, Classic Stage won numerous OBIE Awards, including the 1988 OBIE for artistic excellence. In 1993, she directed the world premiere of Steve Reich and Beryl Korot's opera The Cave at the Vienna Festival and Brooklyn Academy of Music.
A recipient of France's Chevalier de l'Ordre des Arts et des Lettres and the National Corporate Theatre Fund's 2007 Artistic Achievement Award, Perloff received a B.A. Phi Beta Kappa in classics and comparative literature from Stanford University and was a Fulbright Fellow at Oxford. She was on the faculty of the Tisch School of the Arts at New York University for seven years and teaches and directs in the A.C.T. Master of Fine Arts Program. She is the proud mother of Lexie and Nicholas.

Paul Walsh (Co-adaptor) is associate professor (adjunct) of dramaturgy and dramatic criticism at Yale School of Drama. For nine years (1996–2005), he was dramaturg and director of humanities at A.C.T., where he collaborated on dozens of productions, including his own translations of Henrik Ibsen's A Doll's House (2004) and Hedda Gabler (2007). Walsh's 2006 translation of Ibsen's The Master Builder was produced to acclaim by Aurora Theatre Company in Berkeley. He is currently working on new translations of August Strindberg's five Chamber Plays for production by San Francisco's Cutting Ball Theater in 2012. Walsh is artistic director of the New Harmony Project, a new-play development program in southern Indiana dedicated to serving writers who celebrate the human spirit. He has worked as dramaturg, translator, and co-author with theater companies across the country, including the late and beloved Theatre de la Jeune Lune, with whom he collaborated on such award-winning productions as Children of Paradise: Shooting a Dream,Don Juan Giovanni, and The Hunchback of Notre Dame. Walsh serves on the board of directors of Literary Managers and Dramaturgs of the Americas. He received his Ph.D. from the Graduate Centre for the Study of Drama at the University of Toronto.

Karl Lundeberg (Composer), a CBS/Sony recording artist, has recorded four albums with his jazz/world music group Full Circle. He has performed extensively throughout the United States, Canada, Scandinavia, continental Europe, Japan, and Brazil. His contemporary classical music compositions have been performed by a variety of orchestras, including the Boston Symphony, Sinfa Nova, and the National Radio Orchestra of Sweden and featured at the prestigious Mitsui, Perugia, Biennale, Teatro Español, Next Wave, Castle Hill, and San Sebastian festivals. Theater and ballet music includes scores for the American Repertory Theatre, Brooklyn Academy of Music, Seattle Repertory Theatre, Center Stage, Arizona Theatre Company, Pan Asian Repertory Theatre, The Kennedy Center Theater, South Coast Repertory, the Mark Taper Forum (composer-in-residence, 1996–2001), and the Ahmanson Theatre. Film and television scores include works for PBS, NBC, CBS, ABC, ESPN, NRK (Norwegian State Television), Imagine Films, Paramount Pictures, and United Paramount Network. He recently served as musical director for the Shakespeare repertory directed by Sir Peter Hall at the Ahmanson Theatre.

Val Caniparoli's (Choreographer) versatility has made him one of the most sought-after choreographers in the United States and abroad. Although he is most closely associated with San Francisco Ballet, his artistic home for more than 30 years, Caniparoli has contributed to the repertories of more than 35 companies, including Boston Ballet, Pacific Northwest Ballet, Northern Ballet Theatre, Pennsylvania Ballet, Royal Winnipeg Ballet, Ballet West, Washington Ballet, Israel Ballet, Cincinnati Ballet, Singapore Dance Theatre, Atlanta Ballet, State Theatre Ballet of South Africa, and Tulsa Ballet, where he is resident choreographer. His most recent creation for San Francisco Ballet, Ibsen's House, received enthusiastic critical acclaim. Caniparoli has also choreographed for the Chicago Lyric Opera, San Francisco Opera, and the Metropolitan Opera. He has worked on several occasions with the San Francisco Symphony, most memorably on the Rimsky-Korsakov opera-ballet Mlada, conducted by Michael Tilson Thomas. Caniparoli has received ten grants for choreography from the National Endowment for the Arts, an artist fellowship from the California Arts Council, and two awards from the Choo-San Goh and H. Robert Magee Foundation. Previous work with A.C.T. includes choreography for the 2004 production of Ibsen's A Doll's House and the creation, with Carey Perloff, of a new movement-theater piece, The Tosca Project.

Domenique Lozano (Director) directed last year's production of A Christmas Carol at A.C.T. Other directing credits include The Countesswith Center REPertory Theatre, Two for the Seesaw with Marin Theatre Company, Inspecting Carol and the West Coast premiere of Jane Martin's Anton in Show Business with San Jose Stage Company, andThe Norman Conquests, Holiday, The Real Thing, and She Loves Mewith Napa Valley Repertory Theatre, of which she was a founding member and associate artistic director. An associate artist at A.C.T., Lozano teaches in numerous programs and has directed many projects with the Young Conservatory and M.F.A. Program. Young Conservatory projects include the American premiere of After Juliet; the world premieres of Sarah Daniel's Dust and Constance Congdon'sNightingales; a coproduction with the Hochschule für Musik und Theater in Zürich of Paul Steinmann's Only Victory; and the West Coast premieres of Jeffrey Hatcher's Korczak's Children and Wendy MacLeod's School Girl Figure. Directing work with the M.F.A. Program includes Caught with Her Pants Down, Richard III, and numerous graduating showcases, as well as a coproduction with the M.F.A. Program and the Young Conservatory of Amy Herzog's The Wendy Play. This spring she will direct a new musical by Craig Slaight inspired by and using the music of Rufus Wainwright. Lozano is also translatingThe Caucasian Chalk Circle, which will premiere this winter at the American Conservatory Theater. Acting credits include work with such theaters as California Shakespeare Theater, where she is an artistic associate, A.C.T., Berkeley Repertory Theatre, San Jose Repertory Theatre, San Jose Stage Company, and the Oregon Shakespeare Festival. Lozano has also taught throughout the Bay Area at such institutions as Saint Mary's College, UC Davis, California Shakespeare Theater, and Berkeley Repertory Theatre.

James Carpenter (Ebenezer Scrooge) has been seen at A.C.T. most recently as Milan in Rock 'n' Roll, Richardetto in 'Tis Pity She's a Whore, and Ebenezer Scrooge the last three years of A Christmas Carol. Other A.C.T. credits include Cat on a Hot Tin Roof, A Doll's House, andGlengarry Glen Ross. A San Francisco Bay Area resident for 25 years, an associate artist at Berkeley Repertory Theatre for 12 years, and currently an associate artist with California Shakespeare Theater, he is the recipient of numerous Drama-Logue, Backstage West, and Bay Area Theatre Critics' Circle awards and the 2007 recipient of the Bay Area Theatre Critics Circle's Barbara Bladen Porter Award for excellence in the arts. His theater credits include three seasons each with The Old Globe and the Oregon Shakespeare Festival, as well as appearances with Shakespeare Santa Cruz, The Huntington Theatre Company, Intiman Theatre, San Jose Repertory Theatre, and Marin Theatre Company. Screen credits include the feature films The Rainmaker andMetro, the independents Singing and The Sunflower Boy, and the seriesNash Bridges.

A CHRISTMAS CAROL

Fact Sheet

WHAT:
is back, and he's meaner than ever in A.C.T.'s A Christmas Carol, the Bay Area's favorite holiday tradition. Featuring adorable Tiny Tim, those spooky Christmas ghosts, and a multigenerational cast of dozens, A Christmas Carol is a sparkling, music-infused celebration of goodwill that your family will never forget.

WHO:
by Charles Dickens
Adapted by Carey Perloff and Paul Walsh
Music by Karl Lundeberg
Choreography by Val Caniparoli
Directed by Domenique Lozano
Musical direction by Laura Burton

Designed by John Arnone (scenic designer), Beaver Bauer (costume designer), Nancy Schertler (lighting designer), Jake Rodriguez (sound designer)

Starring James Carpenter as Scrooge

WHERE:
American Conservatory Theater
415 Geary Street, San Francisco, CA 94108

WHEN:
December 3–27, 2009
7 p.m.: December 3, 4, 5, 8, 11, 12, 17, 18, 19, 22, 23, 26
5:30 p.m.: December 6, 13, 20, 27
2 p.m.: December 5, 9, 10, 12, 16, 19, 23, 24, 26
1 p.m.: December 13, 20, 27

InterACT Events
Bike to the Theater Night: Thursday, December 17, 2009, at 7 p.m.
A greener alternative to theater transportation. San Francisco Bicycle Coalition (SFBC) will offer free valet bike parking for all patrons who cycle to the theater for this performance. Valet bike parking is available one hour prior to showtime. Bicycles will be attended throughout the evening. Patrons are asked to please bring their own locks.