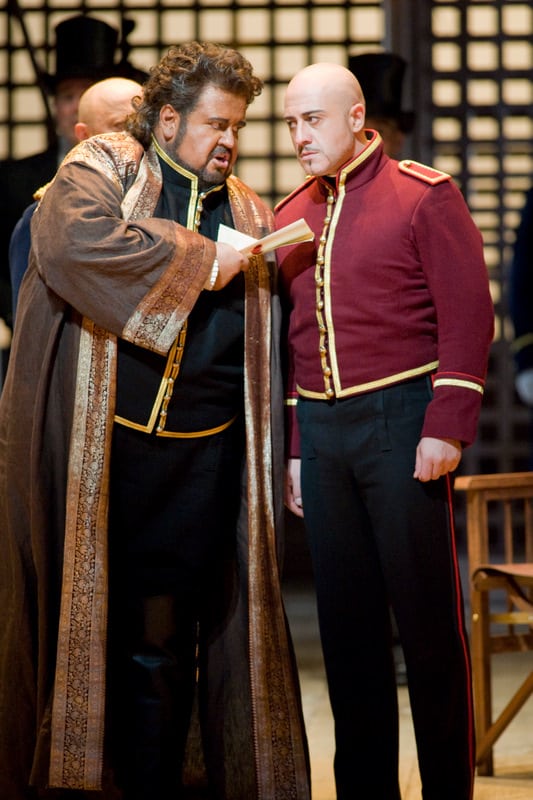 On Saturday November 21 I had the good fortune to take in SF Opera's production of Otello, starring the South African tenor Johan Botha as Otello, Bulgarian soprano Zvetelina Vassileva as Otello's doomed wife Desdemona, and Italian baritone Marco Vratogna as the purely evil Iago. I was not attending with the intent of writing a review, and so I didn't take notes during the performance. However the inexplicable behavior of the audience during the curtain calls drove me to hop online and read the local papers' reviews to see if I could figure out what was going on.
What baffled me is that Vratogna received a well-deserved enthusiastic reception from the crowd with loud applause and many shouts of "Bravo", but then Botha received what could only be described as purposely muted applause, many fewer "Bravos", and far from the standing ovation I felt he truly deserved.
Online I discovered the San Francisco Chronicle's review titled "Iago steals Otello's Thunder" and found my explanation.
Joshua Kosman, Chronicle Music Critic, writes "Botha, it turns out, is a test case for a listener's priorities in opera" and then goes on to say that while Botha is a "real treasure" for the "it's all about the voice" crowd, his acting leaves much to be desired. No argument there. But his voice is stellar – powerful, controlled, memorable, and moving – and in fact his voice literally blew away many of the other lead singers. He clearly had to dial down his volume for his duets, particularly the several Otello/Iago duets, so as not to completely overpower his co-stars. The tear-jerkingly poignant love duet with Desdemona in Act I (movingly and ironically echoed just before Otello kills Desdemona) was sung beautifully and in balance, despite Vassileva's occasional pitch problems.
Vratogna portrayed Iago dramatically cleanly, although a bit monotonically. For Iago to be more credible to this operagoer I would have liked to have seen him be more convincing as Otello's confidant, rather than just a "yes man". And yet his biggest weakness was his vocal projection, particularly in his lower registers, where he frankly was drowned out by the orchestra. The peak of this reviewer's disappointment was in Iago's big moment, the "Credo" scene, where Iago sings "Credo in un Dio crudel che m'ha creato"("I believe in a cruel God who created me") – and where many of the darkest moments of the aria were just inaudible over the orchestra. Iago's Credo is an especially important moment as it's the only part of the libretto that was not drawn from the original Shakespeare tragedy, and is critical in illuminating Iago's dark philosophy.
Botha's stage presence is commanding – largely due to his size (he is a BIG man) – and his physical movements are slow and a bit clunky as a result. But his presence is completely appropriate for the role – when Otello makes his first entrance, he really dominated the set, and was completely credible as the commander of the troops. Otello's initial doubts and internal torment, fomented by Iago's manipulations in Act II, were acted compellingly, and his interplay onstage with Desdemona were gentle, moving, and touching. Yes his acting does leave a lot to be desired, but this reviewer thinks his tremendous voice more than makes up for it.
Nicola Luisotti's conducting was impressive. He drew a compellingly dramatic sound from the orchestra, particularly eliciting the tonal paintings scored by Verdi to provide auditory color to the plot framework, and his ability to stretch lines and delay moments for poignant effect was romantically appropriate and technically impressive. I was especially moved by his delay of the high C# in the touching Otello-Desdemona duet closing Act I – and recapitulated very last line of the score. He was also a director in control – during the complex "Pieta" piece (with full chorus and 4 soloists) the choir and soloists weren't all together on the beat – and Luisotti immediately changed his conducting technique and pulled them back together in less than 2 measures.
I was personally aghast and embarrassed by this behavior – to a performer on the stage coming out to receive the audience's appreciation for their performance, seeing people running out the aisles to beat the traffic is nothing short of a rude slap in the face.
The production was quite effective (although some other reviewers have complained that it's not hugely innovative) overall, despite some flaws. The very opening of the opera was stunning – the entire chorus on stage arranged in a dramatic formation, with lights and strobes (cued in the score by Verdi) creating a compelling effect. (There are some beautiful photographs accompanying the Contra Costa Times review) The townsfolk celebration scene with folk dancing around a live fire was memorably lit, although the ensuing drinking scene was a bit confusing and busy. Other reviewers have commented that the multistory set in Acts I through III was overwhelming; I felt that the biggest problem the set created is that some ensemble singing was staged in the extreme stage left or stage right corners of the upper tier, creating projection problems at the edge of the auditorium.
This reviewer would also like to take the opportunity to embark on two non-performance based rants. The first is to exhort audiencegoers NOT to rush for the exits as soon as the last note of the performance dies away. I was personally aghast and embarrassed by this behavior – to a performer on the stage coming out to receive the audience's appreciation for their performance, seeing people running out the aisles to beat the traffic is nothing short of a rude slap in the face. People – THIS IS RUDE! The opera is no place for this type of selfish and uncultured behavior.
We also attended the pre-performance talk given by Jonathan Khuner and was disappointed to the point of being irritated, annoyed, and frustrated. Khuner's talk basically consisted of a plot synopsis with 20-second musical extracts. I had purchased and read an excellent summary provided by Opera Journeys (recommended – available at www.operajourneys.com) – and learned almost nothing new from Khuner's talk. Moreover his delivery, which is essentially to read into a microphone from notes, was unengaging and disconnected from the audience – causing me to remark "there was absolutely zero value to hearing that talk live – might as well just have podcasted it".
If you love (or even just like) opera, do NOT miss SF Opera's Otello – a voice like Botha's is a rare treat indeed – and you should go for that treat alone.