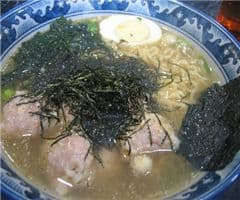 With the winter season upon us in the San Francisco Bay Area, yours truly, a west coast weather wimp is starting to shiver in the evenings when it gets a little chilly. Such was the case as we ventured to see the latest production by Aurora Theatre up in Berkeley.
We arrived a little early for the evening show on a Sunday after attending the opening of Otello at San Francisco Opera. Looking for the ultimate comfort food, the simple exterior of Ramen House Ryowa Japanese Noodle Restaurant beckoned us.
The menu was simple consisting of simple Japanese noodle soup ($8-9), some stir fries with rice ($8+) on the side and appetizers such as gyozas (~$4).
Looking around the restaurant the portions were so generous that we decided to order two dishes and share amongst the three of us. We ordered the Wonton Noodle Soup ($8) and the Chicken stir-fry with a side of rice and soup. Both arrived piping hot and smelled wonderfully savory.
Neither dish was an epitome of gourmet delicacies, but as warm comfort food on a chilly day in Berkeley, it was warm yummy in the tummy.
The portion size of the two dishes were just perfect for a light dinner for the three of us. We left the noodle house with warm bellies ready to tackle the chilly weather outside.