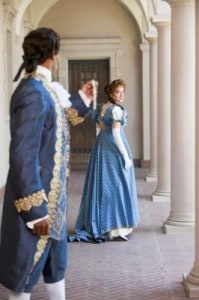 "What happens when you take the 'bippity-boppity-boo' out of Cinderella?" is Opera San Jose's lead-in to their description of La Cenerentola by Gioacchino Rossini. We attended today's performance on behalf of StarkSilverCreek and was curious to see how Opera San Jose's popularist positioning would be reflected in its performance. What we experienced was pretty much in line with those expectations – light, enjoyable, and fun – with some surprise high and low points along the way.
La Cenerentola is a comic opera based, of course, on one of many versions of the Cinderella story. It is almost a perfect opera for families as well as for newcomers to the opera, since the story line is familiar (although with key differences like an evil stepfather instead of stepmother – and the stepfather is pretty funny!) and because this production is staged with a real lighthearted character.
We saw several families with young children, surprisingly young in some cases, and were pleased to discover that the beautifully renovated California Theatre had a family room behind the auditorium with a full glass window – so that if any families had children who were restless or noisy could still watch the show without disturbing patrons in the auditorium. A nice touch. There is also a fairly large concession area with snacks and drinks and speedy service during the two intermissions – we would strongly recommend that families avail themselves of this service.
Now onto the performance itself. Today's Angelina (the lead Cinderella character) was played by Stephanie Lauricella, who in my opinion stood out as the brightest light of the entire cast. Her mezzo tone was full and had a good range of color, and her portrayal of her character spanned the range from downtrodden stepsister to royal favorite to princess smoothly and authentically.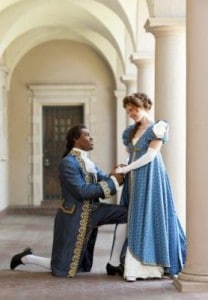 Unfortunately her "prince charming" Don Ramiro, played today by Tanner Knight, was no match for her. Although the role of Don Ramiro is written by Rossini for a "tenor leggiero" (which is a type of tenor voice that is light, very high, and fleet and agile) which clearly is Knight's voice category, and he definitely had all the high notes in his bag, there were several passages where his intonation was off and he seemed to struggle to maintain flow and line. Moreover his acting was sorely lacking in drama or power – the scene where he is supposed to rejoice at Angelina's love for him completely fell flat. His aria in Act 2 Scene 3 was strained and halting.
Silas Elash as Don Magnifico (Angelina's stepfather) delivered an entertaining performance and Krassen Karagiozov delivered a strong and believable Dandini (Prince Ramiro's valet-pretending-to-be-the-prince). Their duet in Act III Scene 1 was a real treat – an entertaining scene with the two "clowns" in the opera. Khori Dastoor (Clorinda) and Cathleen Candia (Tisbe) were also amusing as Angelina's jealous and competitive stepsisters.
We enjoyed most but not all of the staging. There were many well-done lighthearted slapstick moments and many laughs were appropriately earned from the audience. However there were a few times that the staging felt over the top – in particular the ensemble number in Act III Scene 2 where Alidoro (the Prince's philosopher) makes fun of all the cast during their challenging quintet was extreme to the point of distracting. Most of the rest of the production was well-done – sets were clean and costumes period-appropriate – although there were times the lighting would go up and down for no dramatically-related reason and we found that a little distracting.
The opera ended with a rousing and well-performed final piece – a rousing large ensemble with the whole cast on stage. A great end to a great work!
I applaud Opera San Jose for their outreach to the broader community and their efforts to make opera more approachable to families and newcomers. For families who'd like to introduce their children to opera with a story that's familiar, or for adults of any age who are intimidated by opera or who think that it's all tragic or dramatic, La Cenerentola is a lighthearted and enjoyable 3 hour show. Performances continue through November 29.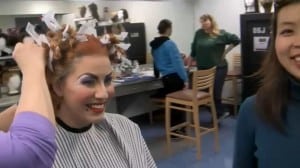 Want more? Check out the behind the scenes video with cast interviews, makeup, and more on this special episode of SSC Presents.
La Cenerentola
Dates: November 14, 15m, 19, 21, 22m, 24, 27, 29m
Time: "m" indicates matinee at 3pm; all other performances are at 8pm
Location: California Theatre, 345 South First Street between San Carlos and San Salvador streets, downtown San José
Tickets: $51–$91 (includes city facility usage fee)
Noteworthy

Probably the most uncomfortable part of the costumes are the wigs which can get scratchy. However, they are worth the sacrifice in comfort because they really do transform the characters such as Tisbe, one of the ugly step sisters
At backstage interviews, Loni mistakes another character for Prince Charming:
> Tall prince-looking gentlemen crosses Loni's path to rush to final rehearsal
> Loni: "Are you prince charming?"
> Gentlemen: (scowl) "Not quite."
> Loni: "Oops"
The traditional restoration of the California Theatre, built in the 1800's, preserves the historic ambiance of this grand venue for Opera San Jose, but make no mistake, behind the scenes ultra-modern technology is at work. This includes LCD panel controls for all the lighting and access to rooms.
Stars of the Opera do get their own dressing room. A red light turned on outside signals the star is in.