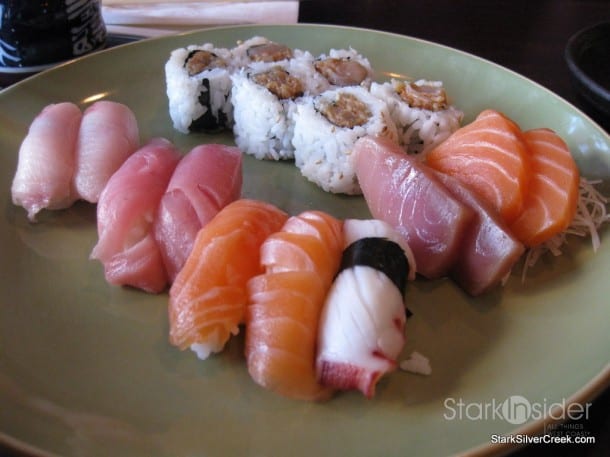 Arriving early for a show at Thick Box Theatre in the Potrero Hill district of San Francisco, I decided to slip into Live Sushi for some fresh fish. I hoped that the name Live Sushi was in reference to the freshness of their fish.
We ordered The Live Sushi which consists of 6 pieces of nigiri, 4 pieces of sashimi and a spicy tuna roll ($16.95)—it is hard to go wrong with dishes named after the restaurant.
To balance the traditional selection of nigiri and sashimi, we selected the Crazy Monkey Roll which had hamachi, unagi and avocado with hot unagi sauce ($7.95). I loved the sound of the lightness of yellowtail/hamachi paired with the meatiness of unagi and bound together with the buttery texture of avocado.
The meal started off with hot green tea which was delicious. The tea had a woodsy nose with a hint of nuttiness. The miso soup and salad were decent, but definitely not the highlight of the meal. In fact, I have yet to have miso soup at a Japanese restaurant that is to die for.
The Live Sushi combination had generous portions of fresh fish either on its own (sashimi) or place on top of restrained amounts of rice which is how I like it. The spicy tuna roll also had a substantial center of tuna mixed with spicy sauce surrounded by just enough rice to bind the roll together. I loved everything in this combination except the octopus nigiri which I have never been crazy about. The only aspect that could have been improved was the exterior texture of the rice, it was a little too sticky.
The Crazy Monkey roll, like the spicy tuna roll, had the right balance between the outside rice and the ingredients placed in the center of the roll. I enjoyed the sauce on top and did not feel I needed to add any soy sauce to this flavorful roll.
I also enjoyed the decor of this restaurant which had austere lines punctuated by dark wood and reds. It was a pleasant place to enjoy a light dinner before a show.
Live Sushi Bar
2001 17th St.
San Francisco, California 94103

tel. 415.861.8610
fax 415.861.6438
website: www.livesushibar.com