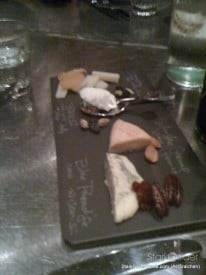 Cube is a small Italian cafe located in the heart of LA at 615 N. La Brea. Like most small upscale LA "small plate" restaurants, the price is up there, but so is the quality. There are only about 8 small tables inside and 6 on the enclosed patio outside plus a counter that can handle 10 overlooking the extensive cheese selection.
Everything was very good. We started with a 2004 Cerbaione (Merlot like) and a cheese plate. The cheese plate came with a huge portion of honeycomb. It was actually 2-3 time the size of the portion we had been served at another bistro. In addition to the honeycomb, toasted almonds were provided along with a very tasty pita bread.
Our entrees were a balsamic hanger steak, pumpkin pie pasta (in spite of the name it was excellent and didn't resemble a pumpkin pie) and a wild boar tortellini. All were very good and prepared perfectly. For desert we chose berry cobbler which was almost as good as the ones my mother used to make, paired with a Marsala (vigne la miccia) and a Carmenos la Cappuccina.
Parking is limited on La Brea (as in nonexistent) before 6:00 PM but Valet Service is available after 6:00 PM; however there is normally plenty of parking on the side streets close by.
For more extensive details, maps and information check their web site at www.cubemarketplace.com.