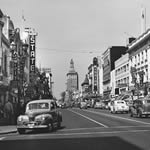 Home Front: Santa Clara Valley's World War II Experience explores how San José and Santa Clara Valley was affected, contributed and benefited by World War II. While young men and women left their families to serve their country in far off places, those at home were constantly reminded of the war through the newspaper, radio, posters, and entertainment. To support the war effort people rationed essential goods, purchased war bonds and grew Victory Gardens.
At the same time, fear led to the internment of Santa Clara Valley's Japanese population. The Japanese experience will be explored, through collaboration with the Japanese American Historical Museum of San José.
In the workplace women and minorities were given opportunities to work in positions formerly unavailable to them. Local industry adjusted to support the war effort by canning foods and producing equipment to be sent overseas. Entrepreneurs in the evolving technology industry were given the opportunity to supply much needed communication devices to the war effort.
History San José is working with the Digital Clubhouse Network's Stories-of-Service project to create intergenerational digital stories of Santa Clara Valley's home front experience, which will be included in the exhibit.
Pacific Hotel Gallery, History Park
Through January 31, 2010
Tuesday – Sunday
12 noon – 5 pm